Jane Russell pushed the boundaries of sexuality in films and is credited with helping women embrace their sexuality in films.
Russell died on Monday of complications from a respiratory illness and died after a short illness at the age of 89.
The actress was famous for her 1943 role in The Outlaw, a film produced by Howard Hughes that played up her sexuality and voluptuous figure.
She is also well-known for her pinups - one in particular of her posing in a low-cut top leaning on a bale of hay.  The photo created a stir in Hollywood and challenged the strict morality rules at the time.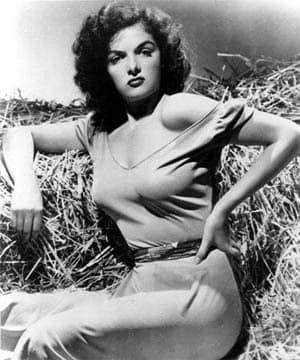 Russell starred in 18 films during the '40s and '50s, but always as supporting roles.  Her one big break came in 1953 as Marilyn Monroe's sidekick in Gentlemen Prefer Blondes. 
She was more well-known for her pinups, which soldiers in WWII loved.  She was deeply religious and lived to regret her early decisions to pose in the pinup photos that made her famous.