The controversial film Miral premiered Monday night at the U.N headquarters in New York City, despite protests from the American Jewish Committee, trying to shut it down. 
AJC Executive Director David Harris explains the committee's problems with the film:  "The film has a clear political message, which portrays Israel in a highly negative light.  [Showing the film] will only serve to reinforce the already widespread view that Israel simply cannot expect fair treatment in the UN."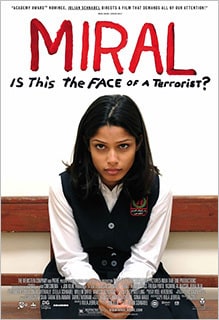 Despite the protests, both director Julian Schnabel and distributor Harvey Weinstein responded to the accusations.
Both Schnabel and distributor Harvey Weinstein (also both Jewish-Americans) were quick to respond:  
"I'm very proud that TWC is distributing Julian Schnabel's Miral," says TWC Co-Chairman Harvey Weinstein, who is Jewish-American. "We pride ourselves on aligning our company with films that take risks and provoke dialogue. Miral is precisely that kind of picture. We are honored that it will have its premiere at the United Nations General Assembly hall, and it saddens me that some in the Jewish community are protesting this screening and judging Miral before they have had an opportunity to see it."
"I love the State of Israel. I believe in it, and my film is about preserving it, not hurting it," says Schnabel in a press release. "Understanding is part of the Jewish way and Jewish people are supposed to be good listeners. But, if we don't listen to the other side, we can never have peace.  Instead of saying 'no,' I ask the AJC to say 'yes,' see Miral and join the discussion."
The film, starring Freida Pinto, follows an orphaned Palestinian girl growing up during the Arab-Israeli war and explores her relationship to the conflict.
The screening took place despite the protest and Sean Penn, Josh Brolin, and Robert De Niro attended.  Schnabel's girlfriend, Rula Jebrai, who wrote the screenplay and who's life inspired the film also attended.