Check out this week's quotes of the week. We're looking at the recently released movie, Hall Pass. 
The film stars Jason Sudeikis and Owen Wilson as two married men who are granted a hall pass from marriage for one week. This means they can do anything they want without any consequences.  But not everything is as it seems when you're given ultimate freedom.
Check out some of the funniest quotes of the movie.  Check out the Hall Pass quotes page for more hilarious lines.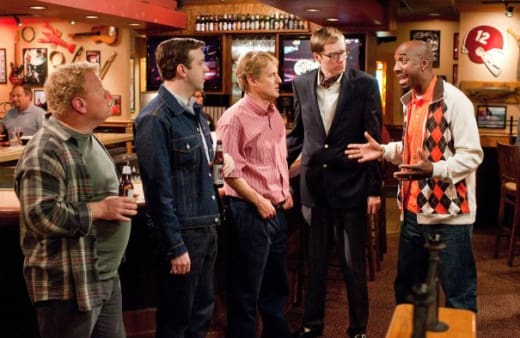 Girl: I'd love to try everything once.
Rick: Skydiving
Girl: Skinny dipping in the Indian Ocean....
Rick: Sleep with a married guy.... | permalink
Friend: Are you sure Applebee's is the best place to meet hot women?
Rick: You thinking Olive Garden? | permalink
Fred: You know what I love about divorcees? ...They love sex.
Rick: Is that true?
Fred: I don't know... I'd like to think so.
Rick: You would like to think that. | permalink
Grace: What the hell is wrong with you two? You are completely obsessed with sex! This morning you left the computer on g*ng***gf*c*b*th.com!
Fred: I get my weather from that site. | permalink