Rango is still going strong in theaters in its third week. Have you seen the movie about the lovable chameleon who dreams of belonging and going on an epic adventure?
Johnny Depp provides the vocal talents of Rango, along with Abigail Breslin and Isla Fisher.
We thought we would relive the fun of the film with some of the funniest quote. It was hard to pick just a few, so visit the Rango quotes page for all the funny moments.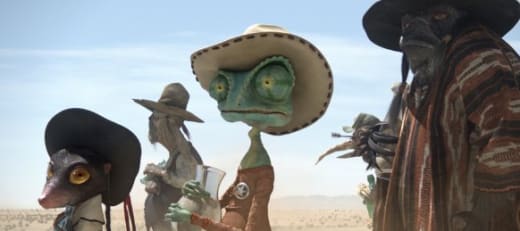 Rango: Is this Heaven?
Spirit of the West: If it were, wouldn't we be eating strawberry Pop-Tarts with Kim Novak? | permalink
Beans: Get your dirty, webbed phalanges off of my boots! | permalink
Rango: [after kids throw rocks at him] Hey! What was that for?
Priscilla: You're funny-looking.
Rango: Yeah? Well, you're funny-looking too.
Priscilla: That's a funny-looking shirt.
Rango: That's a funny-looking dress.
Priscilla: You got funny-looking eyes.
Rango: You got a funny-looking face!
Priscilla: You're a stranger. Strangers don't last long here. | permalink
Rango: So you want something to believe in?
[points at the "Sheriff" sign]
Rango: Believe in that there sign. For as long as it hangs there we've got hope. | permalink
Rango: Stay in school, eat your veggies, and burn all the books that ain't Shakespeare. | permalink