Even though the film has left much to be desired and there was very little actual talking throughout the movie, Sucker Punch did have some inspiring quotes.
It's all about the fight and reaching your true potential.  The only positive thing to come out of this film -- and you can catch them if you listen closely.
Here are some of those inspiring lines, if you missed them or want to be reminded of them.  For more inspiration, visit the Sucker Punch quotes page.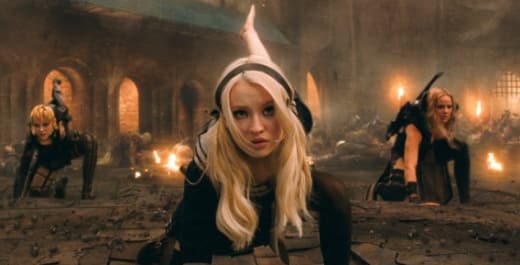 Sweetpea: Who honors those we love for the very life we live? Who sends monsters to kill us and at the same time sings that we'll never die? Who teaches us what's real and how to laugh at lies? Who decides why we live and what we'll die to defend? Who chains us and who holds the key that can set us free? It's you. You have all the weapons you need. Now fight! | permalink
Wiseman: For those who fight for it, life has a flavor the sheltered will never know. | permalink
Wiseman: If you don't stand for something, you'll fall for anything. | permalink
Baby Doll: I lost everyone I loved. And then they locked me away. With no where to hide from the pain. | permalink