Acting legend Elizabeth Taylor died early Wednesday morning at Cedars-Sinai Hospital in Los Angeles of congestive heart failure.  She was 79 years old.
The actress was with her four children when she died, her publicist said in a statement.
Taylor has been suffering from health problems in recent years and checked into the hospital for congestive heart failure last month, but her condition was stabilized.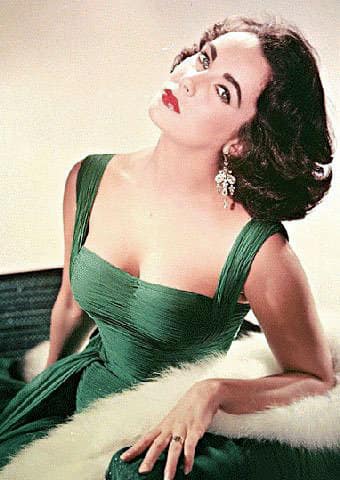 Her family has requested that people donate to the Elizabeth Taylor AIDS Foundation instead of sending flowers and all personal messages to the actress can be directed to her Facebook page. Click read more to see the outpouring of love and support for the actress on Facebook.
"My Mother was an extraordinary woman who lived life to the fullest, with great passion, humor, and love," her son, Michael Wilding told ABC News. "Though her loss is devastating to those of us who held her so close and so dear, we will always be inspired by her enduring contribution to our world."
Taylor first found success at the young age of 12 when she starred in the hit National Velvet.  She went on to star in very successful movies in the '50s and '60.  Taylor won two Oscars, for Who's Afraid of Virginia Woolf? and Butterfield 8.
 Her most famous role is Cleopatra in 1963.  Taylor was also very well known for her personal life, having married 8 times, twice to actor Richard Burton.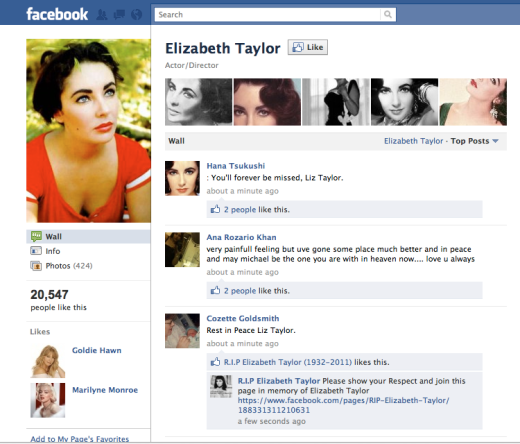 Many memorial pages for the actress have also appeared on the social network, including "The Elizabeth Taylor Memorial Page" and "R.I.P Elizabeth Taylor."