Battle: Los Angeles is out in theaters this Friday and in honor of the UFO invasion film, we decided to take a look at the top 10 alien invasion films.  There were lots to choose from, so this is not a complete list.
Battle: Los Angeles follows a Marine Staff Sergeant (Aaron Eckhart) who must defend mankind against a completely random attack by unknown forces.
So, what's your favorite alien invasion film?
TOP 10 ALIEN INVASION FILMS:
10. Signs (2002)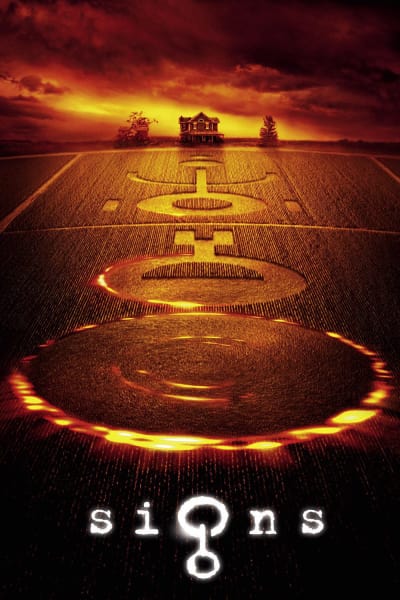 This sci-fi thriller follows a family who finds mysterious crop circles all over their fields and soon realizes they are coming from a strange and frightening source.  M. Night Shyamalan is known for his scary movies and this alien sci-fi flick was no different.  It invoked a frightened response from audiences and was generally perceived well to critics.
9. Men in Black (1997)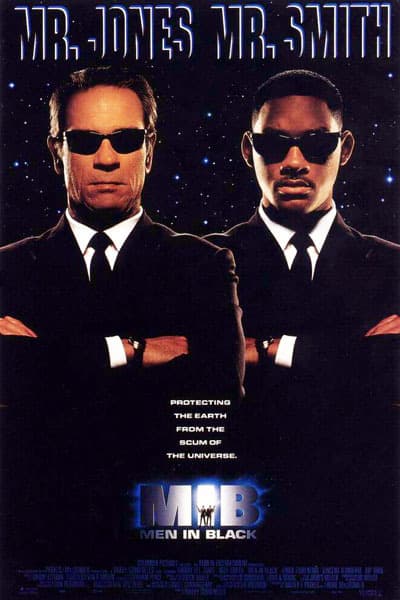 MIB is a top secret agency that monitors and polices alien activity on Earth.  The Men in Black must save the world after the aliens threaten to blow it up.  The film boasts some awesome special effects and a great scenes of comic relief. Unlike other alien films, its has a great combination of both action and comedy.  It also got a 91% fresh rating on Rotten Tomato - loved by critics!
8. The Thing (1982)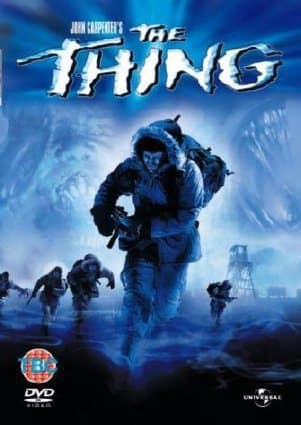 The Thing
stars Kurt Russel as a scientist in the Antarctic who come face to face with a shape-shifting alien who takes on the appearance of the people it kills, making it hard to recognize it for what it is.  During the night, the strange god mutates and attacks other dogs.  The team investigates and soon realizes the horror they are confronted with. The dog mutation scene is just the beginning and provides an awesome start to the rest of the scary sci-fi flick.
7. Independence Day (1997)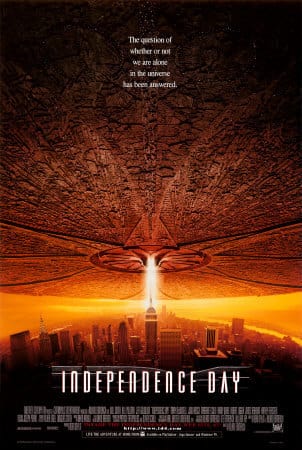 Two days before Independence Day, worldwide communication is interrupted by a strange interference.  The military soon finds out a large number of objects are about to collide into the Earth.  They are huge spacecrafts, piloted by mysterious creatures. The day before Independence Day, the aliens wipe out all buy L.A, NYC, and Washington. They must defeat the aliens before Independence Day.  The special effects and suspense conjured up in the film is amazing and it continues to be a alien invasion staple.
6. Predator (1987)
Arnold Schwarzenegger at his finest!  The movie follows a group of commandos as they rescue airmen from the Central American jungle. While there, they encounter a nearly invisible alien who is on a killing spree, taking trophies from its victims.  Another alien film full of suspense, you must watch your every turn in the juble with this creature on the loose.
5. District 9 (2009)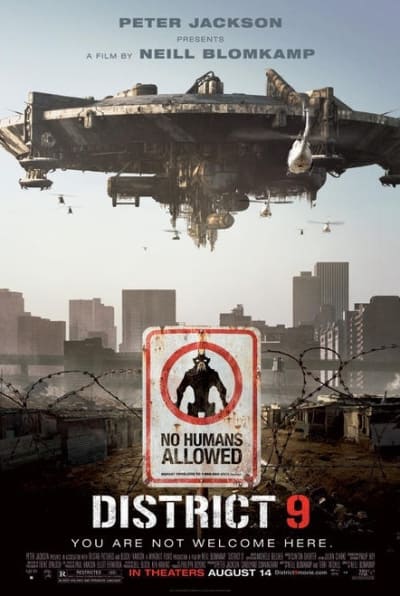 The film follows the story of the famous district 9, a favorite for government conspiracy theorists.  After aliens arrive on earth and are stranded, they are forced to live in squalor on a government run camp called District 9.  In 2010, the government hires an agency to forcibly get rid of the aliens.  It's a bit different than your scary alien invasion movie, possibly has more of a storyline, but we thought it should be on this list.
4. War of the Worlds (2005)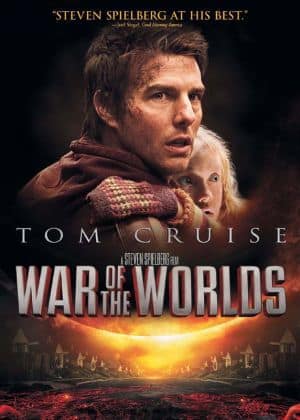 The big screen adaptation of the H.G Wells novel read on the radio, scaring millions of people around the world, features all the suspense and excitement of the novel.  Tom Cruise stars as Ray Ferrier, who has his children for the weekend after his estranged wife drops them off.  Earth is invaded by aliens and he must get out of the city and get to Boston before they completely take over.
3. Cloverfield (2009)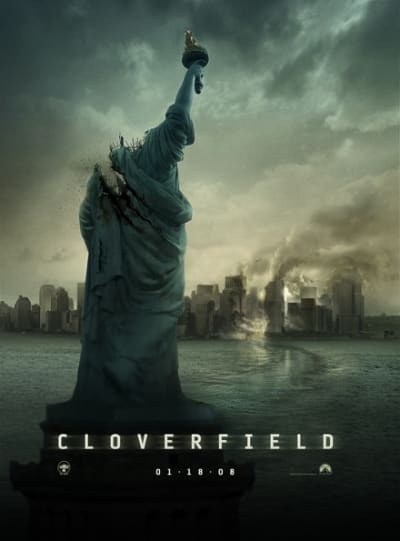 Cloverfield was a gripping film about a monster on a rampage through New York City.  The film is shot entirely from the first person perspective and the jerky camera movements go along to make that effect more gripping.  The style actually makes the movie more terrifying as the six teens must escape the city before it's too late.  The film got mixed reviews, most chastising it for throwing in cheap tricks to get a few screams. 

2. Invasion of the Body Snatchers (1978)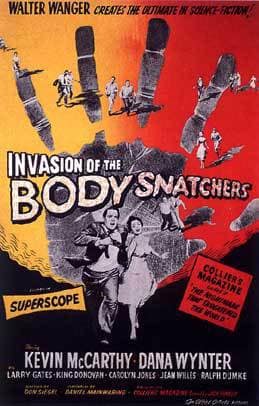 A weird group of spore-like creatures arrive on earth and start creating near perfect duplicates of humans that grow out of some weird pods when asleep.  The best part of this film is the shocking ending that comes as a complete surprise.  Critics were mixed on this one, but generally agree that was pretty terrifying.
1. Close Encounters of the Third Kind (1977)
This 1977 sci-fi film from director Steven Spielberg follows a group of ordinary people as they encounter aliens.  Once they encounter the aliens, they become obsessed with a strange mountain in Wyoming.  They all end up at this mountain where the government has built an area for encounters with UFO's.  The film is amazing to watch and has some unbelievable effects that are worth seeing in and of itself.