Yin Chang previously played a minion of Blair Waldorf on the CW's Gossip Girl.  She has now switched over to film, and is in Disney's new film Prom.
Movie Fanatic had a chance to catch up with her about her new film and what it was like going back to high school.
Growing up I was very outgoing and then I hit middle and high school and I became very shy," she admits. "Toward junior and senior year I stepped out of my shell."
Check out the rest of the interview with Yin below: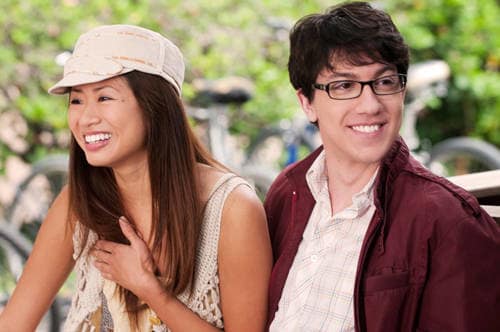 Tell me about Prom.
It's a coming of age movie about a group of teens whose insecurities impact their future, falling in love, going through downfalls and exciting, who all wake up to their one special prom night. It's very reminiscent of a John Hughes and Cameron Crowe classics like Breakfast Club and Sixteen Candles so you know you're going to be expecting an authentic, honest movie.
Talk about your character.
I play Mei Kwan, she's a senior in high school. She's very stylish and artsy and she's part of the core prom committee group as well as the other half of her schools perfect couple. Her boyfriends name is Justin Wexler played by Jared Kusnitz. Mei is a very loyable, relatable and likable girl and a lot of teens could find themselves relatable to her. Mei and Justin have their whole lives planned out, they're the perfect couple and everyone knows that they're going to go to the same college and moving in together, owning a dog, and maybe getting married. They're the sweetheart couple. Even though Justin is a fantastic boyfriend, Mei goes through a case of wanting to explore her individuality. She becomes in conflict with herself and she has a secret based off of that. That could possibly impact her relationship either negatively or positively, and their future together.
It seems like a movie adults would like as well.
To be honest, I highly agree. Adults will connect with it; especially adults who have had relationships in high school or college and have had puppy love. It's about the choices you have to make in life. It's very bittersweet.
What drew you to this project?
I thought that the script was fantastic. Also, it's a Disney movie. I've always loved Disney movies and grew up watching them so it's a dream of mine to see myself in a movie that has a Disney logo at the beginning. I'm going to explode from happiness. My character Mei is very strong. Even though she's has great friends, a great boyfriend and a great high school career, she still wants to find out who she is and dares to step out of that box and explore. That's very righteous of her, because a lot of people fall into safety nets of relationships and friendships, so it's very interesting.
What were you like in high school?
Growing up I was very outgoing and then I hit middle and high school and I became very shy. Towards junior and senior year I stepped out of my shell. I always had a core group of girlfriends that I'm still very good friends with. I was very similar to Mei in trying to find out who I was.
What was your prom like?
I was never thrilled about going. My girlfriends all wanted me to go, so I went without a date and they all had dates. At that one time when I saw them dancing, I thought I should have brought a date. Most of the time I was hanging out at the table eating and talking. I made my own dress to go, that was the most exciting part of my night. It was definitely a night to remember.
Do you stay in touch with your Gossip Girl cast members?
We do. We check in once and a while but I don't keep in touch like we used to when we filmed. Everyone gets busy and we do our own thing. I hear they are doing wonderful, so I'm very happy for everyone.
Are you currently working on anything else?
I just got back from New York City, actually. I was shooting a pilot called 'Weekends at Bellevue'. It's a medical Fox drama. I actually went in for a main character, but they ended up creating a character just for me. If it gets picked up, I'll be a recurring or series regular. That was my first time playing a doctor role, or anything in the medical field. It was so exciting. Really, really fun.