Lionsgate has announced that Elizabeth Banks has officially signed on to star in the big screen adaptation of Suzanne Collins' The Hunger Games.
The studio has also posted the names of the District 4 Tributes on the official Facebook page - newcomers Ethan Jamieson and Tara Macken.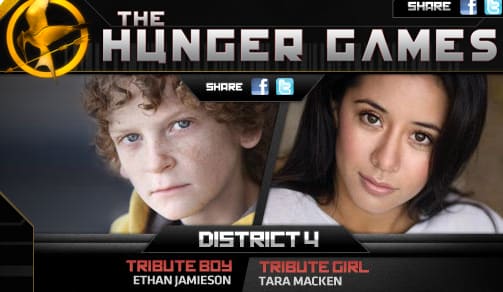 Banks will be playing Effie Trinket, the escort for District 12.  She lives at the Capitol and has no idea of the life her tributes lead in the District she represents.  She is often portrayed as wearing crazy costumes and decked out in hair dye and makeup.  She is described as wearing a pink wig in the first book.
She will join Jennifer Lawrence, Josh Hutcherson, Liam Hemsworth, Dayo Okeniyi, Amandla Stenberg, Jack Quaid, Leven Rambin, Willow Shields, Paula Malcomson, Ian Nelson, and Kalia Prescot.
The film, set to hit theaters on March 23, 2012, is aiming for a PG-13 rating, although the books are fairy violent.