Disney Channel's Original Movie Lemonade Mouth is set to air for the first time this Friday, April 15 on Disney Channel.
The film follows a group of teens who meet in detention and end up forming a band in order to deal with the struggles of high school.
Hayley Kiyoko plays Stella Yamada, the group rebel, who wants to make friends as she's the new girl at school.  She is also an aspiring musician herself and has been on tour with Justin Bieber. 
Check out our interview with the actress below!  Lemonade Mouth premieres this Friday, April 15 on Disney Channel.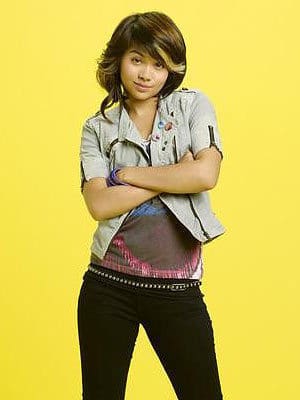 Tell me about Lemonade Mouth.
Lemonade Mouth is about five teenagers who come from different walks of life and they band together to make a difference in the school. While doing so, they develop this wonderful friendship and they go along this awesome musical journey.
 Tell me about your character.
I play Stella Yamada, and she is the rebel in the group. She's very spontaneous, which definitely gets the group into trouble. [laughs] A lot of repercussions. She's the new girl at school and she just wants to be heard because her family doesn't really pay attention to her. She kind of uses the band as a machine to make a difference.
Can you relate to Stella?
Absolutely. Actually, when I was a junior in high school I started a band and I didn't know any of the guys. We basically just starting playing and playing and we became best friends, it's kind of like the story line, but we're still best friends to this day. We became the band to go to in Agoura Hills. I was the front woman. I definitely am a leading in that same sense and I like to make things happen. She's definitely a more intense version than I am.
 What were you like in high school?
I was known as the girl who was friends with every group at the school. I never really had my own group; I was just friends with everyone. I was on the student council, I was on the dance team, I did musical theater, and I was in every single group. During lunch I would float around to each table. [laughs] Once I started my band, I started to find my best friends and my own group.
 These students meet in detention. Have you ever gotten detention?
I was never in detention. I would never do anything to make myself be in detention. I was the kind of girl who got really upset if I was yelled at in class.
If you had gotten detention, what would it have been for?
Probably for something very ridiculous, like going to the bathroom too many times or having too many absences. I would never disobey unless it was something really important that I had to fight for like in the movie.
 Did you read the novel before landing the role?
It was a quick process. I auditioned for the role and when I found out I got it I was on tour at the time with Justin Bieber and my mom sent me the book in the mail. I had two weeks to read it before we started shooting. The book is absolutely hilarious and witty. I recommend it to anyone.
Did you have Justin read it?
[laughs] No, he doesn't have time for that.
 What else do you have in the works?
I'm working on my solo music. I write alternative music. I'm just going with the flow, and I'm up for a few projects.