In honor of the royal nuptials tomorrow, we thought we would look at some of the best wedding movies in recent years.  Although none of these films even come close to the grandeur and regal nature of Prince William and Kate Middleton's wedding,  it's a great way to get into the mood.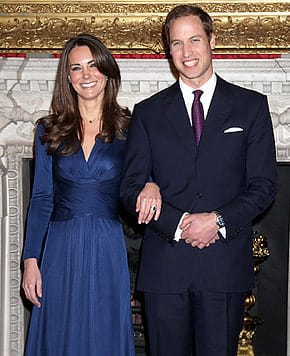 Check out our top 10 wedding movies and let us know: What's your favorite?
TOP 10 WEDDING MOVIES:
10. Made of Honor (2008)
Patrick Dempsey plays Tom, the ultimate bachelor.  He doesn't want to settle down, that is, until his best friend Hannah gets engaged.  Tom realizes he is in love with Hannah (Michelle Monaghan), but is asked to be her maid of honor.  Can he win her love before the wedding?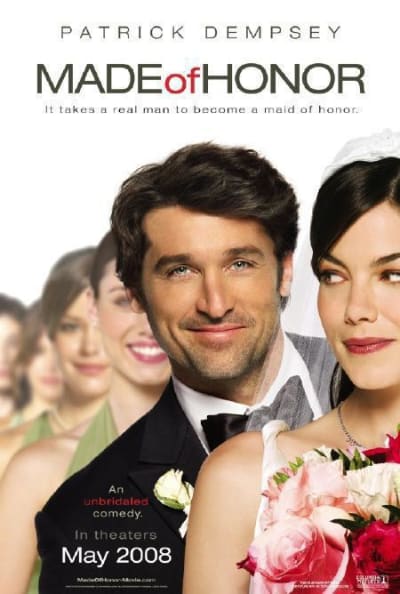 Why we love this one: Everyone knows your not actually supposed to "speak now" during that famous objection line at the wedding, but when someone as cute as Patrick Dempsey wants to steal you away, we can't help but root for him.  His change of heart is sweet and it's clear Tom and Hannah belong together.
9. Wedding Crashers (2005)
John and Jeremy love crashing weddings - they take advantage of the glitz, glamor, and desperate girls, for free!  But when they decide to crash the wedding of U.S Secretary of the Treasury, William Cleary's daughter, things don't do as planned.  John falls for Cleary's other daughter Claire, who is already engaged and they get more than they bargain for when they are invited to the summer house for after-wedding celebrations.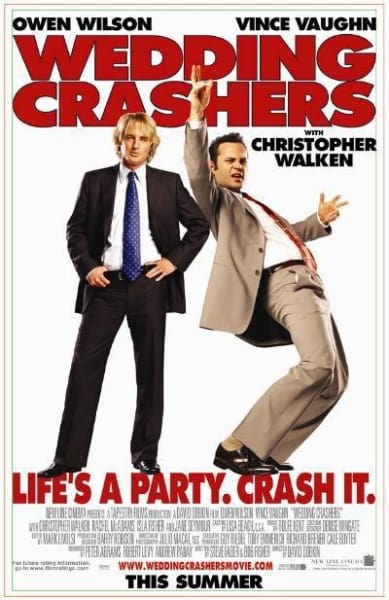 Why we love this one: Through the veil of shallow sexual conquests, there is a hilarious and sweet love story when John and Jeremy both find love in unlikely places. We love the chemistry between the two leading men and they make a great comedic duo.
8. 27 Dresses (2008)
"Always a bridesmaid, never a bride."  That's the theme of 27 Dresses where Katherine Heigl plays Jane, a woman who is the consummate bridesmaid.  She is constantly helping her friends with the best day of their lives, but can never make it down the aisle herself.  She's so hung up on her boss, she can't let anyone else in, until she meets columnist Kevin Doyle (James Marsden).  She must plan the hardest wedding yet - her sister is marrying her boss.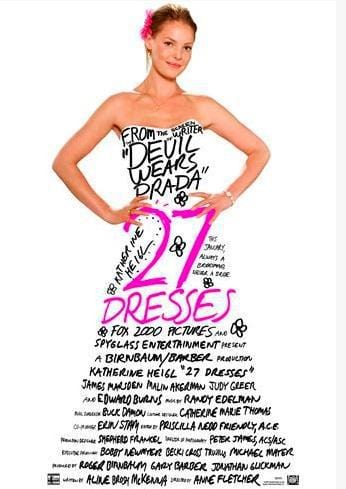 Why we love this one: Katherine Heigl is charming as the one who never gets married and we love her vulnerability.  She never feels sorry for herself, but you can't help rooting for her.  We also love watching Jane's relationship with Kevin grow from dislike to love. 
7. Runaway Bride (1999)
Julia Roberts re-teams for the first time with Richard Gere since Pretty Women and although this movie doesn't have the same charm as the actor's first encounter, it's a cute and worth a watch for all you wedding lovers.  Roberts plays Maggie, a woman with a track record of running away from her upcoming nuptials.  Meanwhile, in New York, reporter "Ike" (Gere), writes a column about her that contains several factual errors, supplied to him by one of Maggie's jilted exes for revenge.  He must go to her hometown to get the right information, but the two strike up a unlikely friendship.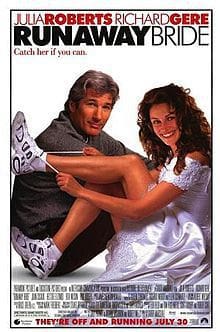 Why we love this one: Julia Roberts is her usual charming self and plays the part well.  Although Maggie is a mess, we still want to see her happy.  Although Richard Gere is getting a little older in this film, he's still charming as well and the pair-up oddly works.  Weddings are the central theme, let's just hope this particular situation doesn't unfold during the royal wedding.
6. The Wedding Planner (2001)
Although quite predictable and corny, The Wedding Planner is overall completely charming. Jennifer Lopez never seems to get it quite right with her acting roles, but she is delightful in this romantic comedy, opposite Matthew McConaughey.  Wedding Planner Mary Flores believes she has finally found the perfect man when she meets doctor Steve.  Steve does not tell her he is engaged and she meets him again while planning his wedding with his fiance.  It makes the whole wedding planning process a little awkward.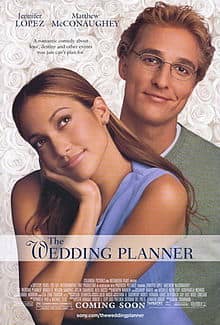 Why we love this one: Lopez and McConaughey have great chemistry in this movie and it's really one of the only reasons we can get through it.  The plot it cheesy and predictable, but we love these two on screen together and it's a great film to get you in the mood for a wedding.  This wedding planner organizes some amazing weddings - getting all the details down to a tee.
5. The Wedding Singer (1998)

Julia (Drew Barrymore) and Robbie (Adam Sandler) become friends when they meet at the wedding reception hall where they both work.  They are both in relationships at the time, but when those fail, they lean on each other for support and find they actually have a lot in common.   The two have a misunderstanding about their relationship status and end up apart, but Robbie makes a grand gesture to win her back.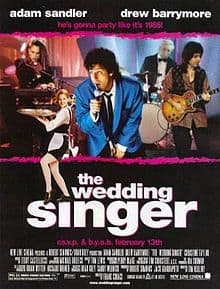 Why we love this one: Although planning a wedding or getting married isn't the central theme between the two main characters, weddings are littered throughout this funny and sweet comedy.  Drew Barrymore and Adam Sandler are delightful and they really seem click and have fun together.
4. Father of the Bride (1991)
Father of the Bride is a delightful take on the whole wedding hubbub. George Banks (Steve Martin) must deal with the fact that his 22-year-old daughter Annie is growing up and getting married, despite only knowing the man for three months.  Things are even worse when he finds out the wedding is going to cost him $250 a head and he must work with eccentric wedding planner Franck (Martin Short)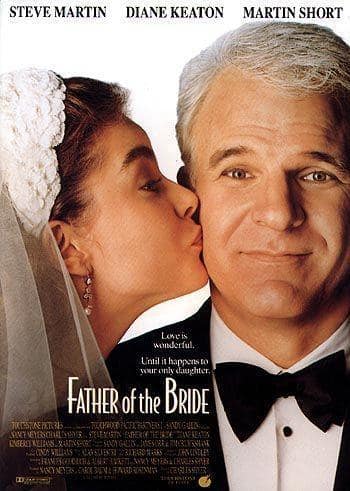 Why we love this one:  Father's usually get brushed aside during all the wedding planning, so it's nice to see the nuptials from a father's perspective.  Every father can identify with the chaos and craziness surrounding losing his little girl.  And although he's not happy about it, he'll do anything to make her happy.
3. My Big Fat Greek Wedding (2002)
Wedding planning taken to the extreme.  Anyone who knows a Greek family knows there is no such thing as a "small" wedding.  The bride quickly loses control of any aspect of her wedding as her parents take over planning the wedding, despite their disappointment that Toula is not marrying a fellow Greek.  It shows the not-so-romantic side of wedding planning as the bride gets lost in the details.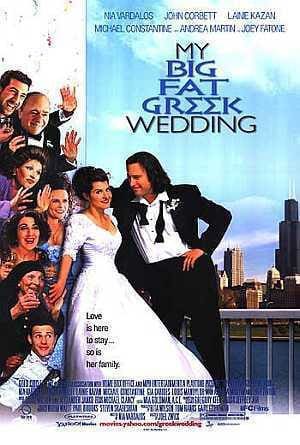 Why we love this one: We see this cultural aspect of planning a wedding played out on the big screen with Nia Vardalos take on planning a Greek wedding.  Based on her own experiences, My Big Fat Greek Wedding is a wedding movie with a crazy and fun twist. 
2. My Best Friend's Wedding (1997)
The ultimate girl fight, Julia Roberts stars in yet another wedding movie.  This time, she's plotting to sabotage her best friend's wedding.  Julianne has been in love with her best friend Michael for as long as she remembers and the two made an agreement that if they weren't married by the time they were 28, they would marry each other.  Michael calls Julianne on his 28th birthday to announce he is marrying -- someone else.  Julianne agrees to be the maid of honor for his new bride in order to win her friend back.
Why we love this one: Although it's a horrible situation, the plot makes for a pretty funny movie.  Roberts is delightful and should be highly unlikable, but it's very difficult to dislike Julia Roberts.  This movie also gives you some great insight into what to look for if someone is in love with your finance.
1. Four Weddings and a Funeral (1994)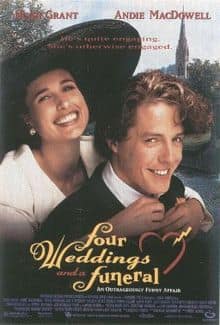 The ultimate rom com star, Hugh Grant is charming in this romantic comedy nominated for an Academy Award for Best Picture.  Grant plays Charles, a man who thinks he will never get married as he attends all the nuptials of his friends.  He finally thinks he's found the right girl in Carrie (Andie McDowell), an American.   The two fall in love, but ultimately go their different ways, starting relationships with other people.  They find each other in a very unlikely place - the fourth wedding, the wedding of Charles.
Why we love this one: We would love Hugh Grant in anything he does, but this one is quite charming and delightful.  Grant and McDowell are great together and the British humor is very amusing.  What better movie to top our list as we get ready for the British royal wedding.