Box office analysts predicted Madea's Big Happy Family would take the first place spot this weekend, but Rio continues to shine as it brought in another $26.8 million, landing it in first place.
Madea wasn't too far behind with $25.75 million, but it just couldn't beat out the tiny blue bird that can't fly.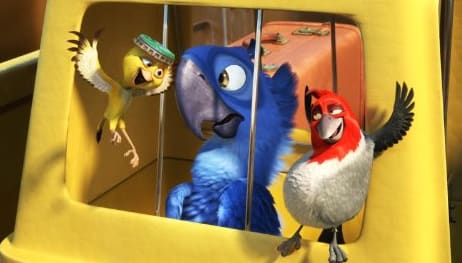 Hop also did well again this weekend, surging in tickets after losing momentum for a few weeks.  Easter weekend brought the crowds back out to see the Easter Bunny do his thing.
Water for Elephants was the surprising movie of the weekend, it did better than originally anticipated bringing in $17.5 million on its opening weekend.
The other new release this weekend, documentary film African Cats, came in a respectable 6th place with $6.4 million -- bringing in about what was expected of the documentary on cat family in the Savannah.
Here are the top 5 at the box office:
Rio - $26,800,000

Madea's Big Happy Family - $25,750,000

Water for Elephants - $17,500,000

Hop - $12,461,000

Scream 4 - $7,154,000