AJ Buckley has been an extremely busy actor.
As the go-to-guy in the Lab, AJ Buckley is most acclaimed for his role as Adam Ross on CBS' CSI: NY, portraying a gifted scientist who brings humor to dark situations.
In the critically acclaimed Skateland, set for release tonight, AJ stars as Teddy Tulos, the heartfelt, captivating owner of an early 1980s small-town Texas skating rink.
Here's Movie Fanatic' Q&A with Buckley: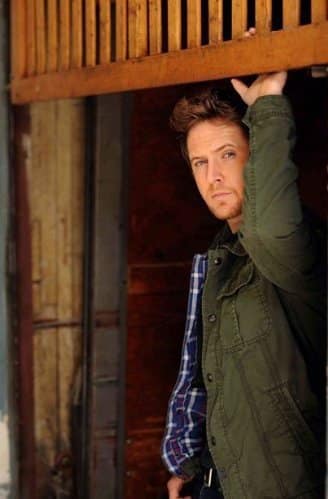 Tell me about Skateland.
There's films that come along in your career as scripts that you really want to be a part of. I remember reading this scripts and calling my agent and manager and saying that I'd so anything to be a part of it. When the offer came through, the dates couldn't work out with CSI, but then Skateland changed things and CSI worked things out so I could go out there and do it.
The friendships and the people I've met on this film have been really solid. We did the movie two years ago and all of us are still a really tight group. Anthony Burns and I have become very close friends and are collaborating on some projects now together. Overall it's one of my favorite films that I've ever been a part of. It's a really great film, and I think a lot of people are going to relate to it.
Growing up in the 80's and the soundtrack alone in this film will blow people away.
Tell me about your character, Teddy.
Teddy is the owner of Skateland and he's the older guy in the group that Shiloh's character really looks up to. Teddy's characters never left the small town. He had an opportunity to and never took it and he sees himself in Shiloh's character and encourages him to spread his wings and fly and get out of the small town.
Did you have learn how to rollerskate?
Being that I was the owner of a rollerskating rink, I had to quickly learn to rollerskate. That's really hard when you have marks that you have to hit because you can't really stop.
You have to look like, if you do stop, that you're not wobbling all over the place. Any takes where I would fly into where I thought my marks were, I'd fly right out of the frame because I couldn't stop. Then when people would be talking the wheels would give out and they would suddenly disappear from the take.
There were definitely a lot of bloopers. They might put it on the DVD.
Talk to me about your new show, Talent: The Casting Call.
My good friend Trip Reed called me up and asked if I wanted to come on board and help produce it with him, and also to act in it as well. He sent me the script and the character wasn't English written, but we brainstormed some stuff and found this character Marcus. Such a fun time playing this English obnoxious record producer was such a blast.
It was so different than anything I've ever done. Just to be involved in the new media world is such a different audience and you can see the numbers you hit and the blogging, and it's a fun world to play in. I think there is going to be a season 2 of Talent.
How is it different than any other talent show?
It's the female version of Entourage set in the music industry. It's not, per se, a talent show. But its based on this girls journey through the music industry with her best friend who becomes her manager and walking her through the scary world of the music industry.
Touching on the TV part of your career, what do think of Sela Ward and her character Jo Danville?
It's always sad to see someone go that you've been working with so long when Melina left and there's always a concern of how the new person will blend and what they will bring. I think it was such a blessing, her coming in and giving a fresh take to this character. In a series, there needs to be changes and it paid off in spades. She's so much fun and she really brings a lot to the character.
What are your general feelings on this CSI: NY season?
It was fun, it was different this season. I think every year there's new things that happen with the characters and new layers that are peeled back and new things you find out. That's the joy of being on something this long is that the writers get to take more chances because the audience is ready to go there with them. There's such a great group of writers on the show.
NOTE: You can follow AJ on Twitter and learn more about him on his official site.