Meagan Good is a busy young actress.  She got her start in small roles, including working as an extra on Doogie Howser, M.D.  Now she's set to star in Jumping the Broom as Blythe, alongside Paula Patton and Angela Basset.
Good explains what it was like working with such a large cast.
"Everyone was really amazing. We were in Nova Scotia and there was zero things to do there and as a result the cast became a family," Good explains. "We hung out together, cooked together, prayed together, had a glass of wine together, and there were no egos or divas."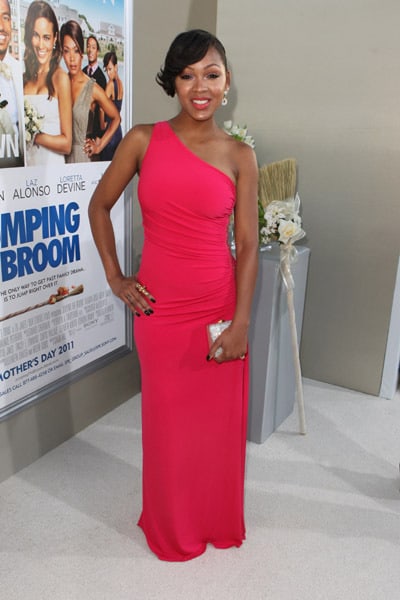 See Good in Jumping the Broom already in theaters and check out the rest of her interview below.
Talk to me about Jumping the Broom and your character Blythe.
Blythe is basically the kind of girl who doesn't believe in love. She thinks its ultimately not going to work out; that the guy is going to cheat or something isn't going to be right. She figures if she has to deal with that she's going to get a guy who at least has some money and will leave her with something. Unfortunately, I think a lot of money take that way, whether they stop believing in love or suffer from heartbreak or whatever it might be. It's unfortunate, because you shouldn't focus on any of those things when looking for a mate. I think you should be completely open minded and open hearted. The love of your life could be a CEO or he could be a valet, it doesn't matter. It's about finding a quality human being that really cares about you and supports you and you want to support them.
With Blythe, she takes that journey in the movie of rediscovering that her priorities might not have been in order.
What led her to be that way?
You definitely get the sense that she's been unlucky in love. She makes comments about Sabrina's husband saying he'll probably use her for her money or to rub elbows with people. I think when people say negative things like that, it doesn't mean they are a bad person; it comes from experiencing something similar and being let down, starting to believe most people are like that.
Since you can't relate to Blythe, which character can you relate to the most?
Probably Sabrina's character. She's starts the film saying 'lord if you send me my husband I promise Ill stay celibate and do the right things'. She just wants to be with the man she loves. She doesn't let her parents push her around; she has a good relationship with god and is a good friend and daughter. There's a lot of her quality I feel are very similar to mine and how I would approach finding my Mr. Right.
The movie boasts such a great cast, how was it to be a part of that?
Everyone was really amazing. We were in Nova Scotia and there was zero things to do there and as a result the cast became a family. We hung out together, cooked together, prayed together, had a glass of wine together, and there were no egos or divas. Everybody was easy to work with and extremely supportive of everyone doing a good job. I will say, it's not always like that.
Who would love this movie?
I think everyone. I think that often times, guys get put out of the mix and think it's a romantic comedy about getting married. I think that when a guy see's the movie he'll appreciate the boldness in Laz Alonso's character and the other male characters because they're not afraid to be exactly who they are. It's a good example for our young men to see. Families, mother's girls, and kids can see it. It's a good movie for all demographics and races. I'm very proud of it.
Talk to me about Video Girl. This is the second project you've produced as well as starred in.
Video Girl was a project that Datari Turner brought it to me 8 years ago and I fell in love with the script because it reminded me very much of Gia. I also have a heart for young women and really want them to know how perfect god made them and what they are deserving of and not to sell themselves short. I felt like the movie embodied a lot of messages that young women need to see, and I felt that it was an important movie to make. The average girl is looking at the video vixen and thinking 'I want my body to look like this', and 'I want to be around this or that'. I wanted to take them behind the scenes and give them a true perspective.
I had a very specific vision for it. I brought on Ty Hodges as a partner, who I'd made a film we did a couple of years back called Miles from Home. People just really took to it. The style and what he did with no money. The storyline was about teenage prostitution and spirituality and coming from broken homes. It's like what Precious is before there was one. People didn't know how to market a film like this, so I came up with the name Urban Arthouse Films, it's not necessarily a black film, but it's a minority film, a lot of colorful faces. Together, he and I are setting out to start a new genre, and Video Girl is one the first babies of that.
Have you known anyone who was seduced into that world?
Yes. I've definitely seen a few people here and there make their way to LA and they want to pursue a career as an actress or get into the video world of modeling to stay afloat and find a way to be relevant. In a lot of cases it works against them because sometimes people won't take you serious, or they will only take you for the way you look or your body shape. We all know that at the end of the day when you're 29 or 30 years old there's the next 22 year old girl coming behind them. It's not a career that has longevity. I think it's a not career that is a long term thing or reaps positive benefits if you're not in it for the right reason.
Anything else in the works?
I'm working on Californication right now; I'm on the next season as Hank's secret love interested. That was interesting. My very second day of work I had to make out with David [Duchovny]. [laughs]. It was like the first day of school. After that, we'll see what's next!
You worked with Channing Tatum back in Step Up. What do you think about the rumors of a possible film based on his life?
I don't know all of his story. I've heard some interesting things about it. He is a rather young guy, but he has lived a very full life rich of experiences and different things that he's been through that people haven't seen I think it would be interesting. Definitely him coming from the modeling world and not being taken seriously initially and now he's become a full-fledged leading man. That in itself is a testimony of a story people would want to watch. I'm curious to see what else has gone on.
Miles from Home can be purchased at www.milesfromhomethemovie.com. You can see when Video Girl will be playing in your city at www.videogirlthemovie.com.