There are 24 tributes for the upcoming movie adaptation of Suzanne Collins' The Hunger Games.  It's a little hard to keep with with them all, but if you're confused, we have a recap of who will play each of the tributes -- some with larger roles than others.
The Hunger Games follows the story of Katniss Everdeen as she takes her sister's place in the annual 'Hunger Games' watched by everyone in the Capitol and 12 districts.  Each district must send a boy and girl between the ages of 12 and 18 to fight in a battle to the death -- aired on live television.
The film also stars (so far) Elizabeth Banks as Effie Trinket, Liam Hemsworth as Gale, Woody Harrelson as Haymitch, Wes Bentley as Gamemaker Seneca Crane, Stanley Tucci as Caesar Flickerman, Paula Malcomson as Mrs. Everdeen, and Willow Shields as Primrose Everdeen.
Here are the 24 Tributes: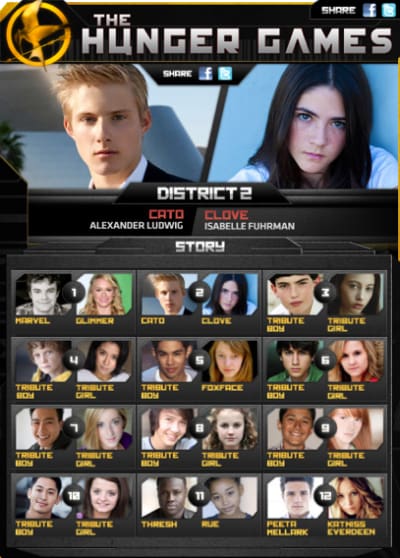 Continue reading for who is playing all the tributes.
District 1
Marvel: Jack Quaid
Glimmer: Leven Rambin
District 2
Cato: Alexander Ludwig
Clove: Isabelle Fuhrman
District 3
Boy Tribute: Ian Nelson
Girl Tribute: Kalia Prescott
District 4
Boy Tribute: Ethan Jamieson
Girl Tribute: Tara Macken
District 5
Boy Tribute: Chris Mark
Girl Tribute: Jacqueline Emerson
District 6
Boy Tribute: Ashton Moio
Girl Tribute: Kara Peterson
District 7
Boy Tribute: Sam Ly
Girl Tribute: Leigha Hancock
District 8
Boy Tribute: Samuel Tan
Girl Tribute: Mackenzie Lintz
District 9
Boy Tribute: Imanol Yepez-Frias
Girl Tribute: Annie Thurman
District 10
Boy Tribute: Jeremy Marinas
Girl Tribute: Dakota Hood
District 11
Thresh: Dayo Okeniyi
Rue: Amandla Stenberg
District 12
Peeta Mellark: Josh Hutcherson
Katniss Everdeen: Jennifer Lawrence