If you have ever wanted to live in Paris - either today or in the charming period of the 1920s, Woody Allen's Midnight in Paris is the perfect film for you.
Set (at the beginning) in modern-day Paris, Allen combines the charm of literature, art, culture, and time-travel into one charming Parisian experience.
Owen Wilson plays Gil Pender, a man who travels to Paris with his fiance Inez (Rachel McAdams) and her parents (Mimi Kennedy and Kurt Fuller).  He is a Hollywood fluff screenwriter who's trying to write a more cultured piece of literature, but can't seem to find the inspiration he needs.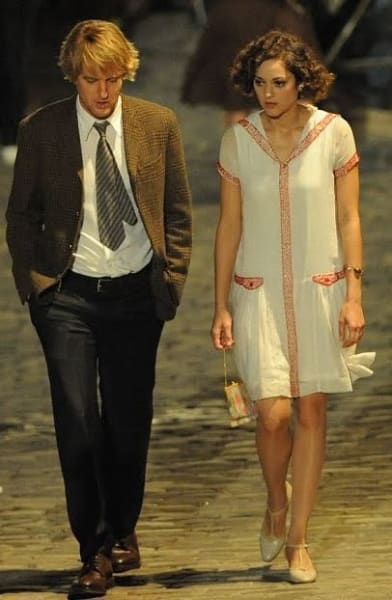 During his time in Paris, the city becomes magical as Gil travels back in time and meets some of the greatest cultural icons of our time including, Ernest Hemingway, F. Scott Fitzgerald, and Gertrude Stein.  Gil accepts this unlikely turn of events with a little shrug and endless wonder at what he's seeing.
This charming Parisian tale is heavy on the cultural references, but the art and literature junkie will find it charming and endearing -- full of subtle jokes and playful jabs at some of the greatest icons of the early 20th century.
The film explores the concept of nostalgia and questions if it is just a abstract concept or if life really was better in a past era.  Gil falls in love with the alluring Adriana (Marion Cotillard) who believes the era Gil has romanticized is boring and unromantic.  She is must more interested in the late 1800s, thinking it is truly the best time to live. 
This great romantic comedy celebrates a very influential time and examines the notion of true contentment living in one's own skin, all in the great "City of Lights" -- but most of all, it leaves viewers with a burning desire to visit the intoxicating Paris.