It's Neville's turn!  We have been showing you the new Harry Potter characters posters every day this week and today we are proud to introduce Neville.
Neville's never been part of the core group fighting Voldemort, but his loyalty to Harry has never faltered and he has been there through everything with Harry.  He is, perhaps, the most dependable of all of Harry's followers.  We love him for it!
What do you think of his poster?  Fierce!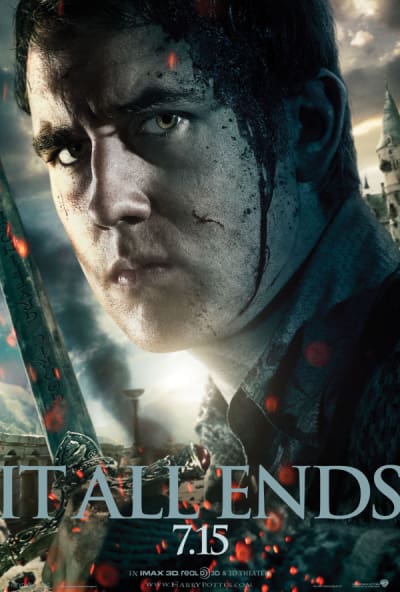 Harry Potter and the Deathly Hallows Part 2 is directed by David Yates and is set to hit theaters on July 15, 2011.  It stars, for the final time together, Daniel Radcliffe as Harry Potter, Rupert Grint as Ron Weasley, and Emma Watson as Hermione Granger. 
It also stars Helena Bonham Carter, Robbie Coltrane, Warwick Davis, Tom Felton, Ralph Fiennes, Michael Gambon, Jason Isaacs, Bonnie Wright, and Kelly Macdonald. 
The epic final installment of the beloved series finds Harry in the ultimate battle between good and evil.  Harry, Ron, and Hermione have been looking for horcruxes to destroy Voldemort, but Harry might have make the ultimate sacrifice as the showdown between the two enemies draws closer.