Did you get a chance to see Bridesmaids this weekend?  It is totally funny and full of one-liners you can definitely quote.  Check out some of the funniest ones from the film to get you started.
If you haven't seen Bridesmaids yet, read our Bridesmaids movie review.
Check them out below and for more Bridesmaids quotes, visit our quotes page.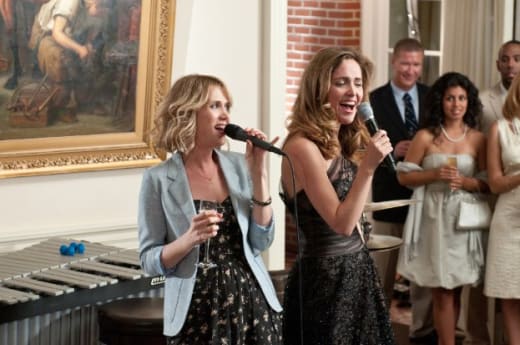 Helen: Oh my God, you got food poisoining from that restaurant, didn't you.
Annie: No, I had the same thing that she had and I feel fine.
[As Becca starts to feel sick and attempts to control pucking] | permalink
[On the plane]
Annie: I am ready to parrrtyyy. | permalink
Lillian: You are total catch. Any guy would by psyched to be your man. You should just make room for someone who is nice to you. | permalink
Lillian: You remember my cousin Rita. Rita just bought a new house. It is gorgeous.
Rita: I wouldn't know, I only see the kitchen and the laundry room, and the ceiling in my bedroom.
Rita: [after pause] Sometimes the floor. | permalink
[As Annie's teeth is blackened by what she is eating, looking like she is missing teeth]
Annie: I don't need dental work.
Lillian: You are right.
Annie: There is nothing wrong with my teeth.
Lillian: You are so beautiful. Will you marry me?
Annie: Yessss | permalink
Lillian: This is Becca, from work.
Becca: Is that your husband? [pointing to a man standing behind Lillian]
Annie: Oh no, I don't know him. I'm single.
Becca: I was just so distraught when I was single.
Annie: I'm fine being - by myself. [Becca makes a distressed face] | permalink