The very highly anticipated The Hangover Part 2 is out in theaters today and critics had very mixed review about the seriously funny trio.
Before we get to our own thoughts on this funny flick, here's what people are saying about the sequel.
Most of the critics agree (whether they liked the film overall or not) that it is not very original.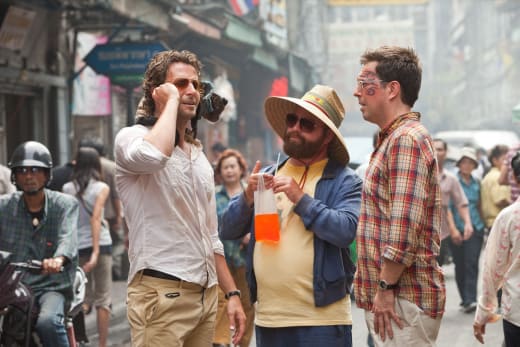 "One of the most uninspired and unoriginal sequels you'll ever see. Or not see, if you're lucky." - Richard Roeper
"Such is the genius of the original movie, it still feels fresh in carbon copy form with some more end credits guaranteed to have anyone who has just popped a boiled sweet in danger of laughing themselves to death." - Graham Young, Birmingham Post
"The filmmakers can't recapture the original's novelty or freshness, so they up the raunch level considerably; the matter-of-factness of the transsexual and gay-panic jokes is almost progressive." - Nathan Rabin, AV Club
So there you have it.  Stay tune for Reel Movie New's take on The Hangover Part 2 and be sure to let us know what you thought of the movie.