WARNING: If you haven't seen The Hangover Part 2 and don't want to spoil the movie, do not read this post.
Many critics have slammed The Hangover Part 2 for being depressingly unoriginal and even (dare I say) boring.  So why are some so disappointed in the highly anticipated sequel?  Well, it is pretty much exactly the same, if you only look at the big picture.  The differences are in the details and those details are quite funny.
Read on for better account of just how the two films are similar... and different and judge for yourself if it sounds like the exact same movie.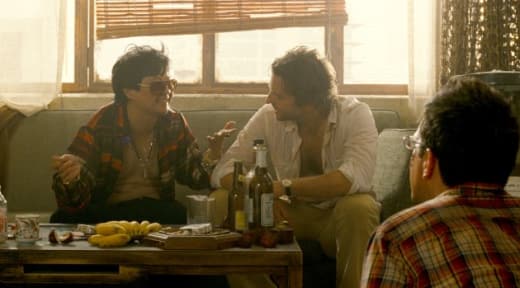 The Similarities and Differences:
Movie opens with Phil (Bradley Cooper) calling Tracy (Sasha Barrese) to tell her something terrible has happened and they're not going to make the wedding.
The film them flashes back to the first moment the guys realized they had no idea what happened - waking up in a hotel room.  But this time, it's a seedy drug-dealing Bangkok hotel room, not a beautiful Vegas hotel room
One of the core group is getting married - last time it was Doug, this time it's Stu.
Doug is not in the majority of the film - he's back at the resort having gone back to the room early because Tracy was ill.
Someone IS missing and Alan (Zach Galifianakis), Stu (Ed Helms), and Phil (Cooper) must find him - it's not the groom this time, but the brides little brother, Teddy.
Mr. Chow turns up again and ends up getting them into more trouble with his illegal activity - this time he's into international shady business dealing and again is blamed for causing the disappearance of one of the group (this time Teddy)
It turns out that Alan actually drugged them (again) at the "bachelor" party - although he meant to get rid of Teddy by drugging marshmallows, but ends up drugging them all.
Phil ends up in the hospital in both films - but this time he was shot in the arm.
What's crazier than kidnapping Mike Tyson's tiger?  Kidnapping a Buddhist monk.
How do you "one-up" finding a baby in your hotel room?  Finding a drug-dealing monke, of course.
How do you "up" marrying a Vegas stripper?  Having sex with a Bangkok she-man the day before your wedding.
What's worse than losing a tooth?  Getting a huge tattoo along the side of his face.
Fans!  How else did The Hangover Part 2 "one-up" it's predecessor?  Comment on some of your favorite Hangover Part 2 moments in our comment section.