It's being hailed another film in the Bridesmaids vein - raunchy female comedies where gal-pal relationships are front and center - but L!fe Happens brings that exploration to a different level.
What happens to the female dynamic when a baby is thrown into the mix?  That's just what three friends Kim (Krysten Ritter), Deena (Kate Bosworth), and Laura (Rachel Bilson) must deal with in this hilarious comedy about life, love, and friendship.
The film opens with best friends Kim and Deena desperately trying to find a condom during their latest one-night stand.  They finally find the last one and Deena wins the face-off.  Kim, not wanting to disappoint, follows through on her promise of sex -- and bam, one year later, she has a little man of her own.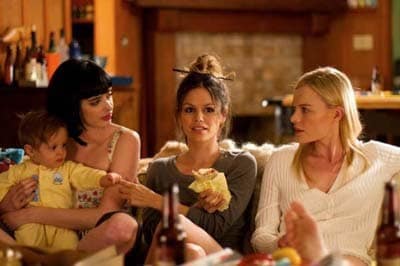 Skipping the whole pregnancy and very serious decision to keep her baby, Kim is swept into the trials and tribulations of single motherhood with the help of her two roommates.  The three girls attempt to navigate the single life, all while caring for this new baby.
Deena is a career girl with very large writing aspirations, continuing with her casual sex lifestyle and focusing on getting her book published.  Bosworth is great in her role - she is calm, cool, and collected and plays it off very well.   Laura, meanwhile, is a hot unemployed (and very naive) virgin who attempts to find temporary jobs that constantly land her in - shall we say - strange situations.  The characters is a much smaller role than the other two and proves to be the only really awkward moments in the film -- Bilson's cute, bubbly personality can't even save it.
Kim soon starts to realize that she can't continue to rely on her friends and she can't exactly have her old life back when she is now the sole provider for a little boy, but she is damn well going to try.
Continue reading to find out why we loved this funny female comedy.
She meets a cute guy, Nicholas (Geoff Stults, 7th Heaven) on one of her only nights out - working at her dog-walker boss' annual Greyhound fundraiser - and lies to him about having a baby.  The two go out a few times and have a great connection, but can she manage to deal with her real life and her fake life?
Things get more complicated when the stress of raising a baby starts to affect her friendship with Deena (played with a cool ease by Bosworth). When things come to a breaking point, Kim must re-evaluate what's important and how she is going to start to manage her own responsibilities.
The feature film debut from writer/director Kat Cairo is real and uninhibited.  Unlike many romantic comedies that come across sounding too forced or completely unrealistic, there is a great chemistry that just seems to fall together in L!fe Happens. Written together by Cairo and Ritter, these two women have really honed in on the female experience.
Some of the best lines come from the witty banter between Ritter and Bosworth.  There is a great scene in particular when Kim and Deena are making fun of Laura, who comes out dressed in a hooker-maid costume.
"You look like Jennifer Aniston in Friends with Money" Bosworth quips.  Hilarious!
Overall, L!fe Happens is a great comedy about how a group of girlfriends come together and deal when s*&t happens.