MGM is still coming back from declaring bankruptcy a couple years ago and Variety is reporting that the studio is hoping to get back into animation with an adapation of Jarrett Krosoczka's children's book Punk Farm.
The studio hasn't done animated since the sleeper hit All Dogs Go to Heaven back in 1989 -- a film that is still beloved today.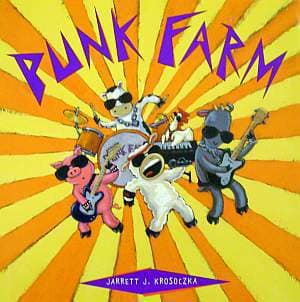 Punk Farm follows five barnyard animals who form an underground rock band. After Farmer Joe heads to bed, Cow, Goat, Pig, Sheep, and Chicken transform themselves into a rock band called Punk Farm.  Animals line up around the entire barn to buy tickets and enjoy a show that includes the hit "Old MacDonald Had a Farm."
David Silverman (The Simpson Movie writer) will direct the film and Jim Hecht (Ice Age: The Meltdown) has written the script. 
It will be interesting to see how MGM does with an animated feature after so many years.