The MTV movie awards looked a lot like last year's movie awards - The Twilight Saga and Harry Potter dominated the nominations and The Twilight Saga: Eclipse won most of the big awards of the night.
The films big wins included Best Male Performance for Robert Pattinson, Best Kiss for Robert Pattinson and Kristen Stewart, Best Female Performance for Kristen Stewart, Best Fight between Robert Pattinson and Bryce Dallas Howard, and Best Movie.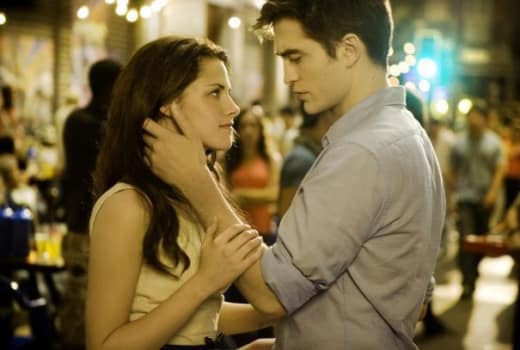 Seriously, the movie won 5 out of 12 awards - and the ones it didn't win, it wasn't nominated.  Twilight fans are so dedicated!
Check out the whole list of winners when you continue reading:
Best Movie: The Twilight Saga: Eclipse
Best Male Performance: Robert Pattinson - The Twilight Saga: Eclipse
Best Female Performance: Kristen Stewart - The Twilight Saga: Eclipse
Best Breakout Star: Chloe Grace Moretz - Kick-Ass

Best Line From a Movie: Alexys Nicole Sanchez - Grown-Ups
Best Comedic Performance: Emma Stone - Easy A
Best Villain: Tom Felton - Harry Potter and the Deathly Hallows - Part 1
Best Fight - Robert Pattinson vs. Bryce Dallas Howard - The Twilight Saga: Eclipse
Best Kiss: Robert Pattinson and Kristen Stewart - The Twilight Saga: Eclipse
Best Jawdropping Moment: Justin Biber - Justin Bieber: Never Say Never
Best Scared-as-S**t Performance - Ellen Page - Inception
Biggest Badass Star: Chloe Grace Moretz - Kick-Ass