Did you see the X-Men prequel this weekend?  X-Men: First Class was the top choice at the box office and it received some great feedback from critics.  You can read our review for what we thought of the film.
X-Men: First Class is a prequel to the well-known story, focusing on Charles Xavier and Erik Lehnsherr when they were younger -- and allies.  Things change when the two friends have very different ideas about what the relationship between humans and mutants ought to be.
Check out our quotes from the film to get a better sense if you haven't seen it or relive the younger years again. Check out our X-Men: First Class quotes page for more great lines.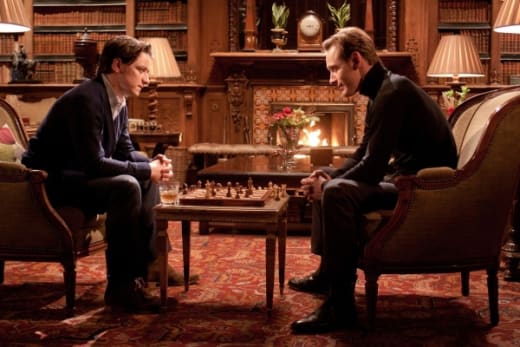 Raven Darkholme / Mystique: You're amazing
Hank McCoy / Beast: Really? | permalink
Erik Lehnsherr / Magneto: My fellow Mutants! The real enemy is out there. | permalink
Erik Lehnsherr / Magneto: If you're using half your concentration to look normal, then you're only half paying attention to whatever else you're doing. Just pointing out something that could save your life. You want society to accept you, but you can't even accept yourself. | permalink
Raven Darkholme / Mystique: I wanna be called Mystique. | permalink
[After seeing Mystique shape shift]
Professor Charles Xavier: How's that for a magic trick?
Man in Black Suit: Best I've ever seen. | permalink
Hank McCoy / Beast: You have no idea what I'd give to feel...
[Both answer]
Hank McCoy / Beast: Normal.
Raven Darkholme / Mystique: Normal. | permalink
Raven Darkholme / Mystique: You're not afraid of me? | permalink
Professor Charles Xavier: We have it in us to be the better men.
Erik Lehnsherr / Magneto: We already are. | permalink