Super 8 has been gaining momentum since its release on Friday.  It came in at number 1 at the box office and through great reviews and word of mouth should do well this weekend too.
The film is about a group of kids who witness a terrifying train crash only to find out not everything is as it seems -- the government is trying to cover something up and strange things are happening in their small Ohio town.
The sci-fi adventure directed by J.J. Abrams and produced by Steven Spielberg is being compared to E.T. and definitely has some similarities.  The kids are excellent in the film and many of the funny lines are because of their great acting.
Check out some of the quotes below and be sure to visit out Super 8 quotes page for more awesome quotes from the film.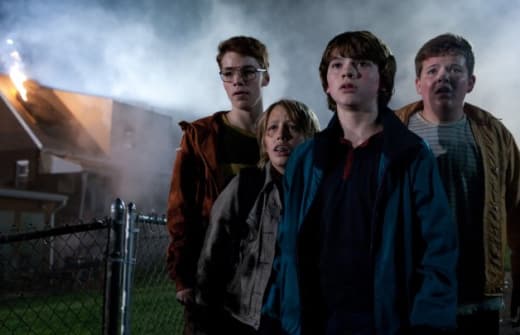 Charles: That's Mint! | permalink
Cary: Can we get another order of fries? My friend here is fat. | permalink
Deputy to Jack Lamb: "We've got calls coming in from people who've found local dogs - but the calls aren't local. It's like they all just...ran away." | permalink
Jack Lamb: "I've got nothing against your friends, I like your friends. But things have obviously changed for us."
Joe Lamb: "I have to help Charles finish his movie."
Jack Lamb: "It'd be good for you to spend some time with kids who don't run around with cameras and monster makeup." | permalink
Colonel Nelec: "I don't want anymore trouble, do you?" | permalink
Louis Dainard: "I saw it. No one believes me!"
Joe Lamb: "I believe you." | permalink
Charles: Drugs are so bad! | permalink