Michael Angarano, widely known as Jack's pre-pubescent son from Will and Grace, is all grown up and starring in new indie flick The Art of Getting By.
Angarano who proved his chops in a lot of younger roles in film such as Almost Famous, Seabiscuit, and Music of the Heart, is now showing us another side.
In The Art of Getting By Angarano plays Dustin, a young alumnus of an NYC prep school.
He is introduced on career day in a scruffy, hipster ensemble displaying a cute nervousness as he's not really sure he should be the one doling out advice. Interestingly enough, Angarano noted that this was his most difficult scene to film and it was his first day on set.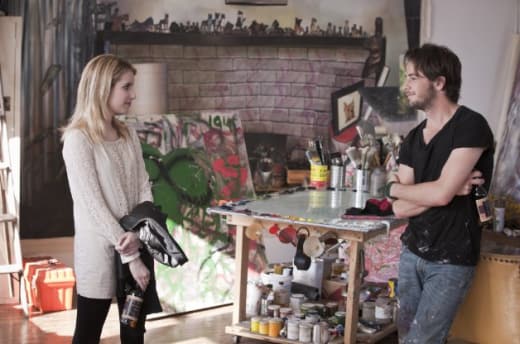 Making a living as an artist in Brooklyn, Dustin instantly clicks with high school senior George (Freddie Highmore) who is floating around in a state of ambivalence. Through Dustin, George finds that his dream of being an artist is actually feasible and begins to find inspiration in his life.
"Dustin's older by such a small margin, but he still seems like a world away from George and Sally (Emma Roberts)," he explains. "He is at a place where he is realizing his potential for success and can use it to manipulate them."
It's the small but significant age gap between the characters that drew Angarano to the role.
"As people we hit a curve in our early 20s where stuff goes by so fast and we become a different person. I was drawn to Dustin because he's not sure how to handle his early success but he has the tools."
Dustin added another angle to the usual coming-of-age story. Instead of just high school kids in a state of teenage questioning, we see the post high school, independent struggle of realizing you're technically now an adult, but not sure what it really means.
Angarano enjoys the challenge of taking on other people's lives, but don't expect him to truly understand how his own career has progressed.  "You can't emulate anyone's career but your own," he astutely observes.
Check out our review of The Art of Getting By and be sure to check it out in theaters this Friday, June 17.