Fox Home Entertainment announced today that Rio will come out on Blu-Ray and DVD on August 2.  Both the Blu-Ray and DVD will include tons of special features.
Captured as a young bird from the wild, Blu (Jesse Eisenberg) is a domesticated Spix Macaw living thousands of miles away from his homeland, Brazil. When his human owner Linda (Leslie Mann) discovers that he is the last male of his kind, they head south to Rio de Janeiro to meet the only other female.
But it's far from love at first sight between the socially-awkward, flight-challenged Blu and the fiercely independent, high-flying female, Jewel (Anne Hathaway). Shortly after Blu's arrival, the two rare birds are captured by greedy animal smugglers and find themselves lost in the Brazilian rainforest.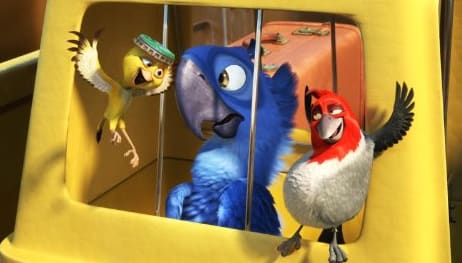 RIO will be available on 3-Disc Party Edition, featuring the Blu-ray, DVD and Digital Copy; as well as in a 2-Disc DVD Party Edition.
Check out all the special features when you continue reading.
RIO Blu-ray:

● Special Features
â—‹ Explore the World of Rio
● Blu Shows the Way (Introduction)
● Boom-Boom Tish Tish: The Sounds of Rio
● The Making of Hot Wings
● Saving the Species: One Voice at a Time
● The Real Rio
● Welcome to Rio Music Video
● Deleted Scene: "Fruit Stand"
● Postcards from Rio
● Carnival Dance O Rama
● Rio de JAM-eiro Jukebox
● Taio Cruz – Telling the World Music Video
● Angry Birds Rio – Trailer
● Angry Birds Rio – Nigel Mash Up
● Angry Birds Rio – Instructional Video
● Live Lookup Powered By IMDB

RIO DVD:

â—‹ Explore the World of Rio
● Blu Shows the Way (Introduction)
● Boom-Boom Tish Tish: The Sounds of Rio
● The Making of Hot Wings
● Saving the Species: One Voice at a Time
● The Real Rio
● Welcome to Rio Music Video
● Deleted Scene: "Fruit Stand"
● Carnival Dance O Rama
● Rio de JAM-eiro Jukebox
● Taio Cruz – Telling the World Music Video
● Angry Birds Rio – Trailer
● Angry Birds Rio – Nigel Mash Up
● Angry Birds Rio – Instructional Video