In honor of fathers day and all the amazing dads out there (including my own brilliant and amazing father), we thought we'd look at some of the best dad movies of all time.  Fathers are a special part of a child's life, they help kids grow and understand where they belong in the world, can be counted on to impart wisdom, and are just plain fun to hang around.
The fathers in the list of films below are just that and we want to celebrate all the good fathers out there who do their best to be there for their kids.
Happy father's day to all those amazing dads!
10. Kramer vs. Kramer (Ted Kramer)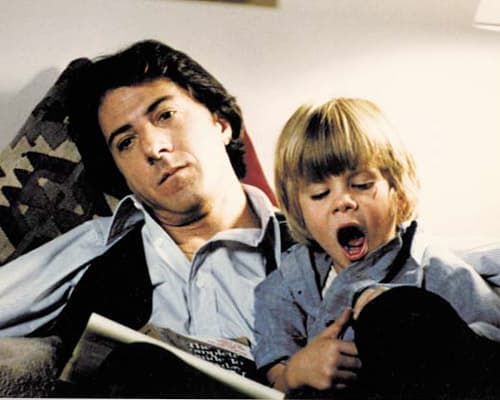 When his wife suddenly leaves, Ted Kramer (played by Dustin Hoffman) and his son Billy learn to live on their own and rely on each other.  It's not easy at first, but they soon come to a mutual understanding and deep love for one another.  When his wife suddenly returns and wants sole custody of their son, Ted shows just how far a father's love is willing to go and how long a man is willing to fight for his family.  In a time when women are usually automatically given custody, Ted attempts to defy the odds and win his son back.

9. Big Daddy (Sonny Koufax)
As unconventional fathers go, Adam Sandler in Big Daddy tops the cake.  Never wanting to settle down, Sonny Koufax's life is turned upside down when his roommate, Kevin's four-year-old son comes into his life.  Kevin doesn't know the kid exists and is on a business trip when he shows up at the door.   Sonny soons learns that life is about more than just himself - and more importantly, parent is all trial and error.
Continue reading for more amazing movie dads.
8. Pursuit of Happyness (Chris Gardner)
Need a father to look up to?  Check out the true story of Chris Gardner, portrayed by Will Smith in The Pursuit of Happiness, who is so determined to be a moral role model for his kid, he will do anything.  When Chris finds himself hitting rock bottom, he doesn't give up -- he becomes even more determined.  He brings his son with him every step of the way and along their journey, the two of them learn what it like to depend on other and always have another's best interests at heart.  Good luck not crying during this one.
7. Mr. Mom (Jack Butler)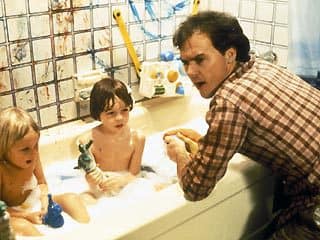 The stay-at-home moms usually get all the attention, but what about those stay-at-home fathers?  It's a tough job to be a full-time parent, raising the kids every day and taking care of the house.  Women are attune to it and usually do it without much thanks.  When Jack Butler, played by Michael Keaton decides to stay at home with the kids while his wife works, he thinks it's going to be easy.  He is overwhelmingly surprised when he realizes it is a much tougher job than he thinks.  Father - try it some time, you will learn very quickly that it takes a lot of skill and courage.

6. Father of the Bride (George Banks)
Putting up with planning a wedding is hard for any father to take and George Banks (played by Steve Martin) doesn't always take it in stride. He is constantly frustrated and forking over more money than he wants, but his love for his daughter is evident.  He clearly wants her to be happy and will do anything for his little girl - there are just a few mishaps along the way, in true Steve Martin style, we might add.

5. Parenthood (Gil Buckman)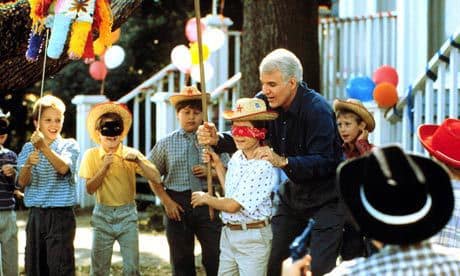 The film has produced the popular television series spin-off, which many modern audiences will be familiar with, but it started with a feature length movie, starring Steve Martin as the partriach of the Buckman family.  In a film that explores the ups and downs of parenthood, Gil is not always the perfect father, but he is learning along with anyone.  One thing is never questioned, his devotion and love toward his wife and kids.  Parenthood is not always easy, but doing the best you can is all you can expect and this film depicts that brilliantly.

4. Taken (Bryan Mills)
How far is a father willing to go for his daughter?  There's no limit for Bryan Mills in Taken. Played brilliantly by Liam Neeson, this real-life father of two boys captures the very essence of what it means to be a father and keep your children safe.  When his daughter (Maggie Grace) is kidnapped and forced into the slave trade, this father will do anything to rescue his flesh and blood from her seemingly doomed fate.
3. It's a Wonderful Life (George Bailey)
George Bailey is the epitome of selfless.   Portrayed by Jimmy Stewart in the beloved holiday classic, It's a Wonderful Life, this man has always put his family, friends, and everyone in his own ahead of himself.  All his generosity comes to a breaking point and he suddenly wants to end it all.  So what would happen to all those people he's helped through the years if he never existed?  The world is a very different place without this generous man and father.  The ending sequence is unforgettable and is true cinematic magic.  If you haven't seen this one, it's worth a gander.  You won't regret it.
2. The Sound of Music (Captain Von Trapp)
It takes music and the lovable spirit of one amazing nun to warm this chilled father of seven.  Underneath his rigid exterior, we all knew Captain Von Trapp is really a softie who loves his kids.  He proves to be an excellent father when he warms up and allows music and laughter back into his house.  This beloved film and Captain Von Trapp will always remain in our hearts as one irreplaceable father figure.
1. To Kill a Mockingbird (Atticus Finch)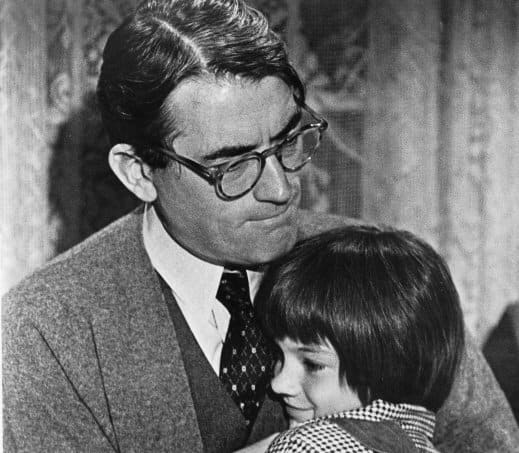 A favorite literary father has favorable transformed to the big screen in the form of Gregory Peck. Peck brings the beloved father of Scout and Jem to life in the film adaptation of To Kill a Mockingbird.  His wisdom and kindness do not go undetected -- in a time where father's were conventionally the breadwinners, leaving the child rearing to the wives, Atticus is front and center in his kids lives. Peck's performance and the character has become a role model for all of us.