Paramount Pictures has teamed with Yahoo! Movies to present the Transformers: Dark of the Moon movie premiere live from New York City.  The live red carpet will begin at 5:30 p.m. EST. 
Fans can watch it and share their reactions on Facebook and Twitter.  You will get a chance to see some of the biggest stars from the film, including Shia LaBeouf, Josh Duhamel, John Turturro, Tyrese Gibson, Rosie Huntington-Whiteley, Patrick Dempsey, Kevin Dunn, Julie White, Frances McDormand and Ken Jeong.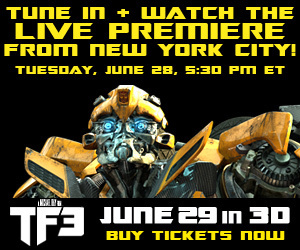 You can also see highlights from the Moscow Transformers: Dark of the Moon premiere here.
After watching the premiere online, you can head straight to theaters for your own premiere, as the film opens in 3D at 9pm today (June 28th) and everywhere beginning at midnight on June 29th.
To view the premiere visit: yhoo.it/transformerspremiere or www.TransformersMovie.com