Daffy Duck, Tweety Bird, and Wile E. Coyote are back!  Warner Bros. has announced it is resurrecting some of its very popular Looney Tunes characters for three different 3-D short films in anticipation for its upcoming feature film.
But before any Looney Tunes feature hits Warner Bros. will rev up anticipation with three shorts to be featured before upcoming animated films.
The distribution company also revamped the classic television show on the Cartoon Network with The Looney Tunes Show, a half-hour animated series featuring Bugs Bunny and Daffy Duck living together in the suburbs.  Neighbors will include Yosemite Sam, Granny, Tweety, and Sylvester.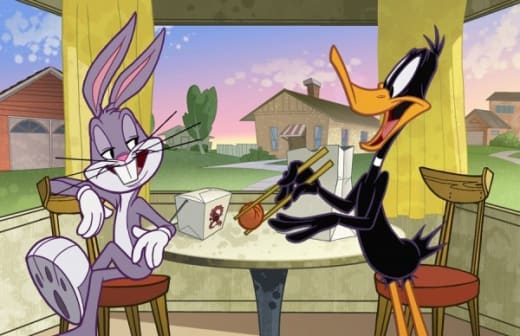 The second phase of their Looney Tunes comeback is the short films.  Two of the films will use archived footage from original recordings of Looney Tunes voice artist Mel Blanc - talk about authentic!
The studio has described all three of the shorts:
Daffy's Rhapsody: In the first of the new shorts, a persistent Elmer Fudd chases Daffy Duck (voiced by Blanc) on stage during a musical performance.  The short features Blanc performing the song "Daffy Duck Rhapsody."
I Tawt I Taw a Puddy Tat: A classic game of cat and bird transpires in Granny's apartment as Tweety Bird goes to great lengths to avoid being captured by his arch-nemesis Sylvester the Cat. The short also features the hit sont of the same name, which was performed by Blanc.
Untitled Coyote and Road Runner: Wile E. Coyote's epic quest to capture the Road Runner continues in this all-new short.  Will the Coyote finally catch the elusive Road Runner?
The first short, Daffy's Rhapsody, is set to play in front of Happy Feet 2 on Nov. 18.
Who can forget watching The Looney Tunes every Sunday night - part of an American tradition!