We got a chance to catch up with Captain America: The First Avenger star Chris Evans while promoting this Friday's film release.  He got to talking about everything from his hesitation to take on such a huge role (he had to go to therapy for it!) to what it's like working with the all-star cast of The Avengers, which is currently shooting.
We also got a very humble and slightly embarrassed Evans to talk about what it's like to be a sex symbol.  His answer may surprise you!  Also, who would win in a fight between Captain America and Evans' other superhero character the Human Torch?
Find out all that and much more below.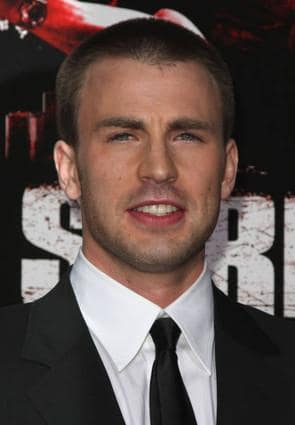 Getting straight down to very important business, Evans discusses who would win in a fight between his previous superhero character the Human Torch and Captain America, as well, as which one chicks would dig more:
"I don't know. That's a tough question. [laughs].I can't say that! I have an allegiance to both of them," he explains about the potential battle. But when it comes to the ladies, he says it really depends on what they're into. "It depends.  Some girls like the bad boy [human torch] and some girls actually want a good man [Captain America]."
We can talk in abstracts all day, but this "good man" has a hard time when it comes to being seen as a sex symbol in real life.
"I don't even know how to answer that. Am I? I don't even know how to answer that. It's tough to feel that way standing next to Hemsworth and Downey [laughs]. I don't consider myself that way. I know most people say that, but I really don't. Most actors are saturated with insecurities and I'm no exception. I'm drowning in it."
Yes, you certainly are, Chris.  And Evans was even a little apprehensive about taking on the role - partly because of just that!  He was worried about losing his anonymity, even having to go to therapy to get over his fear.
"I was nervous about a lifestyle change. I was nervous about a commitment to six movies. Six movies could last 10 years and the way my career's gone so far if you do movies one at a time and if all of a sudden you don't want to do them anymore – which is something that I dance with every now and then. I love making movies, but I don't want to be a gigantic movie star. If I want to walk away, I can. Doing six movies – a six picture deal – you can't walk away. A big thing that I enjoy in my life is anonymity," he explains.  "If I'm going to do it, I have to fix things and find out why is this such a big deal to me? Why am I so scared? And it was a great catalyst. If I hadn't done the movie, I don't think I would have gone to therapy.I usually am not good at press or in public when I get recognized. For some reason I get very uncomfortable. My face gets red, I sweat. For some reason in public situations or red carpets, I crumble."
We also got the scoop on the highly anticipated upcoming Avengers flick. The movie is currently shooting and Evans describes what it's like to work with such a huge cast.  And one person, in particular, who made him "skip back to his trailer."
"[Chris] Hemsworth and I are kind of in the same boat, especially on this film.  Everyone on The Avengers is so accomplished and experienced. So Hemsworth and I are kind of in unchartered waters. But it's been great for us to have each other. But I can't say enough about [Robert] Downey [Jr.]. Downey's been so great. He's so positive and so available and I just didn't know what to expect coming out of this movie. He's so experienced. He's so engaging and encouraging and every single take, you finish and he's like [thumbs up sign]. You skip back to your trailer – 'Downey gave you a pat on the back!' He's just amazing. I cannot say enough...
He also describes his initial reaction on set - what it was like to see all those superheros together!
"So the first day I came on set - the thing that really did it for me was Thor. Seeing the suit was awesome. And Hemsworth – he is Thor! Have you seen him? He's the guy! He's huge. And his cape on and his wig – and it's like oh my god, this guy's the god of thunder!"
Needless to say, Evans was impressed!  But what about his own intense training to become the buff Captain America?  He describes the "brutal" regiment and what is was like seeing himself as the scrawny Steve Rogers.
"Brutal! We did about four months – I was filming in Boston and they sent a trainer out from London – and I'd never had a trainer before and we would go about 2 hours every day....Trust me, if you saw me from birth to about 17 years old, you'd know, it wasn't too hard," he explains on seeing himself early on in the film. "Go watch – I just did Jimmy Fallon the other night – I brought some photos. Trust me, it was a bumpy youth. Sex symbol is not how you would have described me."
Get more information on Captain America: The First Avenger out Friday.