Who's the girl kissing Chris Evans in the upcoming Captain America: The First Avenger?  Her name is Hayley Atwell and she's a beautiful and smart British actress best known for her work on the English stage.
We got a chance to sit down with the new action star at the press junket for Captain America and got in some girl talk about everything from sex scenes to her type of guy.  We also got in a couple questions about the film - but come on, we really just wanted to gossip with the gorgeous star!
Atwell plays the strong soldier Peggy Carter, who feels an instant bond with Steve Rogers, later to become Captain America.  Peggy is a much stronger character than many of the damsels in distress depicted in comic-books and Atwell says that's definitely what attracted her to the role.
"I think Peggy's someone who can hold her own around guys, obviously. She punches them in the face if they try anything, which was brilliant because I had her confidence while playing her, just to make sure I had her confidence just to make sure I felt heard on set...I loved the fact that she was a 1940's woman and she was strong, kind of reminded me of the strength that that Bette Davis had and Katharine Hepburn had. It's such a stylist time and I love that and I love the fact that she doesn't need to be save."
She also talks about the fact that, even though the film is set in the 1940's, there's a modern feel to the relationship between Peggy and Steve.
"It feels like a much more modern day relationship and it feels in a way that they're kind of kindred spirits. She's had her own struggles to get where she is because she's a woman, as he has because of his physical disadvange. So they kind of understand each other."
She also loved the idea of going back in time to a completely different, telling how how she felt like a different person on the '40s set.
"Men and woman at that time – whatever class – they wore a suit and hat or the woman, I mean my grandmother used to put on her lipstick just to go get her milk and eggs at the shop, and sleep in her curlers every night – and there was something so much about self-respect being in your appearance. And how slobby we are today and casual everyone is, which I love, but there was something to fabulous about that time."
It's also why she loved the relationship between Steve and Peggy so much, it truly represented the innocence and romance of that time.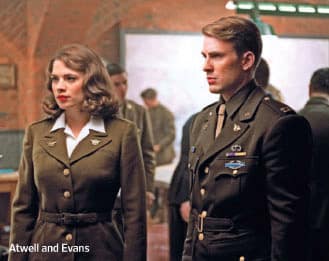 "There is an innocence and that was another appeal. If we can make an action film that's predominantly for teenage boy's market, but have this love affair – it kind of makes you want them to get together even more. And not having the token sex scene that can really be in your face. It leaves something up to the imagination and it means there's a growing affection between them, which is far deeper and therefore far sexier than how quickly people tend to give themselves to each other because it means that it stands out. It means that if you love someone – this is the person that you love. This is the person that you ought to be with."
Speaking of romance and sex, we had to ask her what type of guy she goes for - scrawny Steve Roger or buff Captain America?  Her answer may surprise you.
"I like physiques that seem to be appropriate to what that person does. So if you're an athlete or a dancer or swimmer, than amazing, but if you're huge and beefy, for me it becomes a real off-putting vanity that I find unattractive. It's an energy thing really – it's how comfortable people are in their bodies and how they carry it and I find that overrides any kind of physical thing really.... It's him [Peggy] was attracted to, not anything else. And she found that attractive and endearing and I think that really shows at the end when she brings out a picture of early Steve and it's like – it's him!"
Find out more about Captain America: The First Avenger, including an interview with Captain America himself.