Sony Animation introduced two of its motion capture animated films.  Any Chicken Run or Wallace and Gromet fans out there?  The studio is introducing two brand new animated films in the same vein.
First up, The Pirates! Band of Misfits.  Fans in Hall H were treated to a series of clips no one has ever seen before - the slap-stick comedy flick doesn't even hit until March of next year!
Director Peter Lord was on-hand to introduce the clip and give eager fans a first-hand account of what they will expect in the Pirates of the Caribbean meets Johnny English mash-up.
He explained that they looked to classic pirate movies for inspiration, but this is far from a conventional "arr matey" type of film.
The Pirate Captain, played by Hugh Grant is cheerful and outgoing, but a bit absent-minded.  He is joined by a sensible lieutenant, played by Martin Freeman, who proves to be the only intelligent one in the bunch.
The Pirates meet a super villain, the evil Queen Victoria, who hates Pirates and wants to get rid of them at all costs.
Through a series of hilarious misfortunes and triumphs, the Pirates make their way through the high seas.
Lord insists "stop-motion animation is more fun than CG animation" and loves playing with the "very hands-on" technology.
Look out for more on The Pirates!  Band of Misfits coming in the next few months.
We then got a great look at another Sony Pictures stop-motion animation film - this one coming out even sooner.  Hitting theaters this November is Arthur Christmas.
This one is about... you guessed it - Christmas!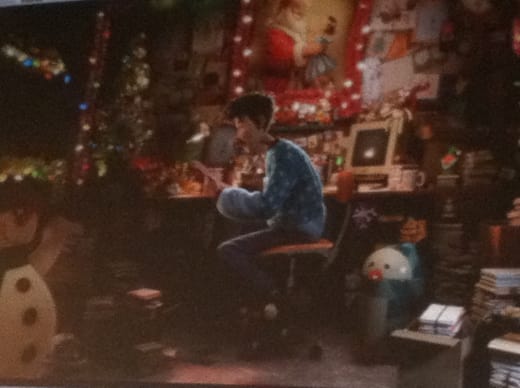 The creators of this high tech Christmas tale set out to answer the question - how does Santa do it all in one night?  We know Santa is a large man - some would even say fat and jolly, but how does one man go about eating all those cookies?  And visiting all those houses?
Well - Santa doesn't do it all on his own.  Santa gets help from his uber-technical son Steve, played by Hugh Laurie, who has a Christmas tree shaped beard and has all the makings of a Santa-in-training.
We also get to meet Arthur, played by James McAvoy, the ultimate Christmas fan who works in the letters department and longs to be part of every single bit of the Christmas madness.
Lucky fans stationed in Hall H got the chance to see a special clip that studio didn't even want shown.  The clip features Santa on his big night - but he's caught!  Fortunately Santa is now a huge corporation run by thousands of elves who know just what to do when such a situation takes place.  Think Google on steriod.
Arthur Christmas is set to hit theaters on November 23, 2011.