Sebastian Stan, perhaps best known to audiences for playing Carter on "Gossip Girl" has made his way to the big screen, taking on the role of Bucky Barnes in the upcoming Captain America: The First Avenger.
We had a chance to sit down with the actor to talk about his brand new role - and he told us Bucky is more of an partner to Chris Evan's character Steve Rogers, than a sidekick.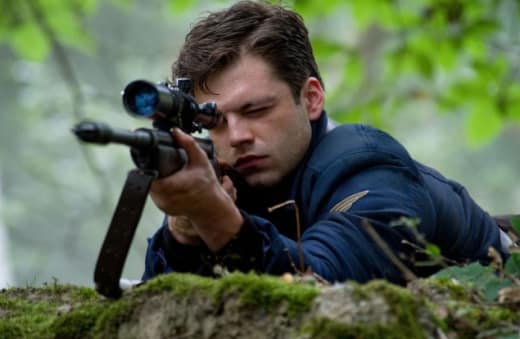 "One of the things that I found really interesting about him early on is that he was always the character that would end up doing some of the dirty work and he was highly skilled in terms of that and Captain America was always the guy that was kind of the image and sometimes it didn't come to the surface some of the things that Bucky was doing on these missions. So there was kind of a darker side of that that I really like, so I took that and then I mainly focused on some of the more recent comics... But at the same time, what was important is that we definitely wanted to establish at that level, earlier on what that relationship was between Bucky and Steve with him being that scrawny guy and then keeping in mind how that dynamic might change once he's suddenly a 6 foot 3 machine. There;s like a lot of that brotherly, competitive nature that two kids that grow up have and Bucky always feeling, I can take you under my wing, but all of a sudden, he doesn't feel like the leader anymore."
He also decided it was more important to do research on the period and wartime propaganda films, believing the character would just fall into place.
"Having about a month before we started shooting just to be able to go and research stuff and find things. Thank God for YouTube and obviously there's just been such amazing movies out there, like The Thin Red Line and Saving Private Ryan and The Longest Day and Band of Brothers were very helpful. I thought it would be more helpful for me to concentrate on the realities of war and why these guys were going to war and I was sort of trusting that if I did that, then the whole comic book world would exist on its own, so I didn't have to really tamper with it."
But things weren't always all work and no play, Stan told us about the fun he had on set with Evans, even helping to create a connection when filming.
"Sometimes it was so hard to keep a straight face with Chris because he's so funny sometimes CGI days are so long and the setups are long. You really shoot for like 5 minutes and then you wait for 40 minutes, so there's a lot of downtime to get to know people and that's one of the things that I feel is really awesome about doing this. You really get close to people and you get to know them really well and sometimes you have the luxuries, in the case of Chris, he was very open and so was I with him. We got along and we only thought that was going to help come across on screen."
Stan also admits, he wasn't a big comic-book fan growing up, but that didn't stop him from taking the role.
"First of all, I was in Europe. I was born in Romania then I was in Vienna for a while, so I didn't really come here till I was 12, so that whole part, I wasn't introduced to them, so I wasn't looking out for them. I had friends that liked them a lot. I was much more into sports, wrestling or something."
The real fun for the actor was getting to shoot the World War 2 weapons.
"I get to fire World War 2 weapons? There's just something about it that totally brings you back to being a little kid playing with toys. There's just something about it... there was just a lot of time where we were just sitting around waiting and I had a sniper rifle – and a World War 2 rifle you have to like snap back and forth a certain way and then take a minute – I was like, if I don't get this, then it's just not going to look right. So sitting there just working on that."
Be sure to check out our interviews with Chris Evans and Hayley Atwell about their roles in the upcoming feature.
Find out more about Captain America: The First Avenger hitting theaters this Friday.