Exclusive: Snow Flower and the Secret Fan Author Lisa See on Watching Her Novel Come To Life
by Alyssa Caverley at . Comments
So many films these days focus on male/female relationships and romantic fairytale notions of love, but what about the special relationships women have with their best girlfriends?  That special bond between friends is explored in this new period drama from director Wayne Wang (The Joy Luck Club).
Set in both contemporary Shanghai and back in the very traditional 19th century China, Snow Flower and the Secret Fan explores what is means to be a best friend - a sworn sister bound together for life by an ancient tradition.
Not only is this a beautiful story of female relationships, but it is also wrought in tradition and what it means to be a woman living in one of the largest economic power structures in the entire world.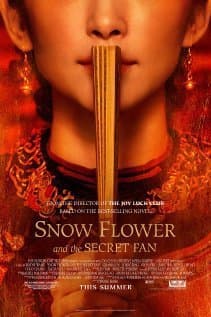 Ancient Chinese traditions are steadfast and very important to Chinese culture as a whole.  This film bring out some of the best (and worst) aspect of ancient traditions and current struggles for women.
We got a chance to sit down with the novelist, Lisa See, who is responsible for the story you see on the big screen.  She went to great lengths to ensure her story accurately portrays the traditions and way of life at that time. 
Chinese women created a secret language called Nü Shu where they wrote to each other on secret fans in order to keep in touch and grow alongside one another.  They also experienced extremely painful foot finding that would transform their feet to just 3 inches (a painful process involving broken toes and condensed bones). 
"I got to meet, at that time, the oldest living Nu Shu writer.  She was 96-years-old when I met her.  Just this extraordinary woman.  Tiny, like little bird-like person," Sing explains about researching the novel. "She had bound feet.  She talked to be about the time before her feet were bound.  What it was like to have her feet bound."
Check out the interview below for more on this extraordinary novel and how bringing it to the big screen allowed for a better look into Chinese culture.