Jenna Fischer is no stranger to being in front of the camera.  She has starred as The Office sweetheart Pam for six years now, alongside the hilarious Steve Carell.  She's delving into an entirely new role - headlining a major motion picture, A Little Help - in one of her first dramatic roles, as struggling mother Laura. 
And it was definitely not a role that came naturally for her - it was a bit of a struggle to pull off this train-wrecked wife and mother.
"This character was the biggest departure from my actual personality than anyone I've ever played before, so that was a challenge." Fischer explains. "She's not a planner, she anticipates nothing. And I'm the complete opposite. I'm a lover of lists and five-year plans and excel spreadsheets and any way I can have control over the way my life is going, I gravitate toward that. And so I had to rewrite my own personal history and suppress my own natural instincts when I took on this character."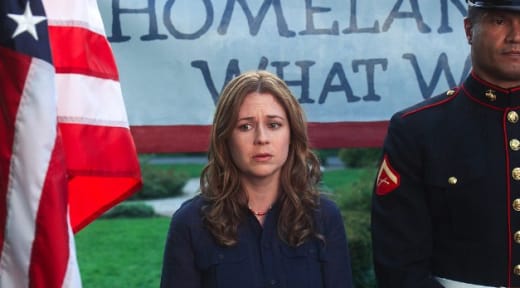 Not only was she departing from her natural instincts for this role, she also had the added stress of leading an entire cast for the first time.
"It's scary. I definitely have a new appreciation." she explains of the added pressures on set. "As the lead of a movie, you really set the tone off camera as well, and that's a really big responsibility and I've never had that responsibility before. But the more easygoing you are, the more easygoing the day goes. And then the more crazy you are, the more crazy – that energy , it really starts from you. So that was really new for me because I've only ever been a follower of the energy, I've never had to set the energy." 
But it wasn't all scary and exhausting for the expectant mother.  She also had quite a lot of fun on set, especially with her co-starDaniel Yelsky
"They always warn you as an actor, don't work with kids and animals because they'll drive you crazy, but I had the opposite experience.We drive a lot and we're stuck in traffic a lot in this movie and we were in this car that was hitched to a trailer that was hitched to the back of another car driving us around town, and we'd be in that for 10 or 12 hours and we just got silly. We'd have the crew sneak us snacks and he's a kid, so they said 'don't give him a lot of sugar, so I'd slip him sugar.' We'd eat fruit rollups and things like that, so it was fun. I think I kind of regressed a little bit and I became a big kid with him."
Fischer also explains she drew from some interesting personal experiences to play the role, especially the kid-like side of Laura.
"I don't know if this is true for everyone, but I have this relationship with my parents that despite however mature or articulate or grown-up I think I've become, when I go home, I turn into this petulant 13 year old. Just like the tone of my voice. They'll say something to me that if another adult had said it, I would be perfectly fine in my response, but with them you just take on that irritated tone. And everytime I hear myself doing it, I'm mad at myself because I am an adult woman, I need to act like an adult. So I use that in my scenes, where I just went into it. I hate that side of me where I just regress and stay in their house for like two days and like I'm 17 again. I was 17 when I left and I think I just turn into that age when I come home and I haven't grown out of it. So I brought that quality to the character. And then Leslie Ann Warren, who is such a shrew to me in this movie, we were like best girlfriends off-camera."
The film is set in 2002, just after the 9/11 tragedy.  Laura's son Dennis concocts this lie in order to fit in - he says his father died a hero in 9/11, but really died of a heart condition.  Fischer explains the cast and crew didn't have any qualms about adding that element into the film.
"It's interesting that we're coming up on the 10 year anniversary of 9/11, so this movie comes out at an interesting time. It's a senstitive subject. It's a really painful event in a lot of people's lives and people lost their lives and people lost loved one and I think there's nothing about what we do in the movie that diminishes any of that. I personally didn't find any part of it offensive.  My character is no hero and we're certainly not suggesting that the lies she tell are in any way heroic or right, in fact, she gets her comeuppance for it."
So what should mothers take from Laura's downward spiral?
"I think this whole movie is a "what not to do" guide to parenthood for sure. I think she's taking the friend first, parent second track. I'm definitely the opposite of that. I'm definitely the parent first, friend second philosophy and trying to find the balance. But she didn't have a lot of balance there."
 Fischer is expecting her first baby with husband Lee Kirk in September. 
 Check out our review of A Little Help and more information on the film already out in limited release.