Warner Bros. Pictures announced today that Harry Potter and the Deathly Hallows Part 2 has already broken several pre-sale records in the days leading up to the huge finale of the beloved series.
Advance tickets sales have reached more than $32 million, a new pre-opening record.  Many midnight and first-day showings are already sold out across the country, despite the fact that the movie will be shown on a record-setting number of screens - 11,000 screens in 4,375 different locations.
Breaking another record, the film will be released on 274 IMAX screens nationwide.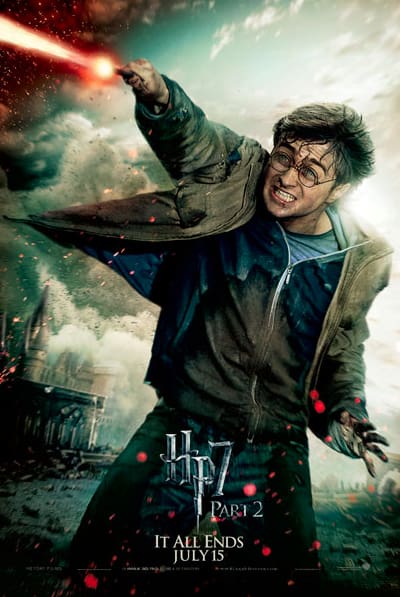 The film will also be showing in 3D at more than 3,000 locations.  Select midnight screenings will have special commemorative Harry Potter 3D glasses for fans attending those screenings.
"We appreciate the loyalty of Harry Potter fans and understand that they have been waiting 10 years for this moment. We can't wait to show them the movie, which we believe delivers on every level, so we are putting the film out on as many screens as possible in an effort to satisfy demand from coast to coast," said Dann Fellman, Warner Bros. Domestic Distribution President. "We want to ensure that fans who have been counting down to the finale will have every chance to see it, early and often, and we hope that they will take advantage of the opportunity to watch all their favorite characters in 3D for the first time, which is an experience not-to-be-missed."
Harrry Potter and the Deathly Hallows Part 2 marks the end of a very successful run for the Harry Potter series.  We get to see Daniel Radcliffe, Rupert Grint, and Emma Watson reprise their roles one last time in this epic conclusion.
The film is set to hit theaters at midnight on July 15, 2011.