Horrible Bosses is a pleasantly surprising film.  The previews looked decent, but nothing overly exciting, and with a cast full of A-listers, you would expect something pretty brilliant.  That's just what we got with Horrible Bosses.  Be sure to read our review for more on this funny film.
Want to relive the hilarity again?  There are so many one-liners in this film, we could probably have quoted the whole thing... but we won't
Check out our collection of quotes below and be sure to add more to our list in the comments section.  You can see more of the quotes on our Horrible Bosses quote page too.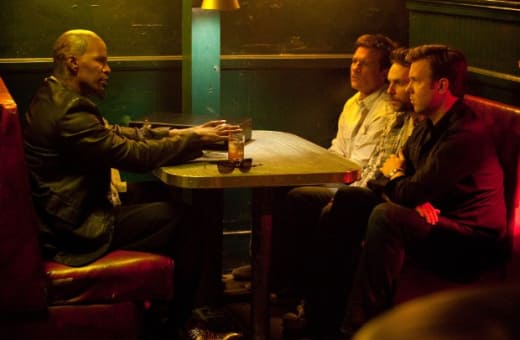 Detective: "You wanna explain why you were speeding?"
Nick: "I was drag racing."
Detective: "In a Prius?"
Nick: "I don't win a lot." | permalink
Bobby: "Oh yeah, we've got to trim some of the fat around here."
Kurt: "What do you mean by trim the fat?"
Bobby: "I want you to fire the fat people."
Kurt: "What?!"
Bobby: "They're lazy and they're slow and they make me sad to look at." | permalink
Dave: "You want one?"
Nick: "It's 8 o'clock in the morning."
Dave: "It's 18-year-old Scotch - you want a promotion, you gotta earn it."
Nick: (downs Scotch) | permalink
Dave: "I have decided who I want to be our new vice president of sales...me!"
Nick: "What did he say?"
Dave: "Nick? Please, we're in the middle of a meeting."
Nick: "Sorry."
Dave: "That's alright, I'll just attribute this to your drinking problem." | permalink
Julia: "Let's have sex on top of her! Let's use her like a bed!"
Dale: "That's crossing the line!!!" | permalink