Entertainment Weekly has released the first look at the boys of The Hunger Games two months after premiering the first look at Jennifer Lawrence as Katniss Everdeen.
The film, based on the highly successful trilogy from Suzanne Collins, follows the story of Katniss as she enters into the dangerous Hunger Games - a fight to the death on national television for the world to see.
Now it's time to see Peeta and Gale in all their glory. Played by Josh Hutcherson and Liam Hemsworth respectively, Peeta enters the Hunger Games alongside Katniss and Gale is Katniss' childhood best friend who she leaves behind when she goes to the games.
Hutcherson's hair has been dyed blonde for the role and he's beefed up with some swoon-worthy biceps.  He told EW (and worried fans) that Lawrence will not tower over him on-screen.
"Jennifer's not two feet taller than me!" he assures fans. "If anything, maybe she's a half inch taller."
The two also bonded off-screen, becoming very close friends, even if their on-screen characters don't see eye-to-eye.
""I think it's going to blow people's minds when they see that Peeta and Gale are actually best friends in real life," says Hutcherson.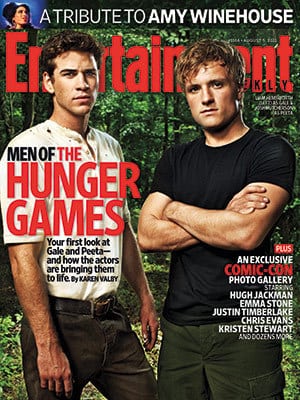 The Hunger Games is set to hit theaters on March 23, 2012.