Prom lands on DVD, Blu-Ray and download August 30 and the film's star, Aimee Teegarden, sits down and answers 10 questions about high school, the film Prom and even how to make friends during that difficult time that can be the high school experience.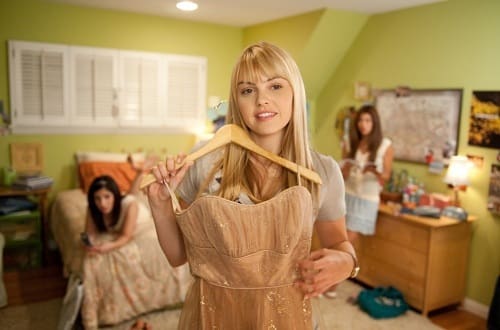 In Prom, Teegarden plays Nova Prescott, a young girl whose dream is to launch the dreamiest Prom of all time. When challenges abound, she finds an unlikely helper in a brooding Thomas McDonell. Will he be the one who destroys Prom, or makes it the night of her life?
Movie Fanatic: So, what were you like in high school?
Aimee Teegarden: I graduated when I was 16 years old, so I guess I was a bit of a nerd because I worked hard to finish early. I was already working in the entertainment business. I knew I wanted to be an actor, so I focused and I got on with my schoolwork.
Movie Fanatic: Did you have time for friends?
Aimee Teegarden: Yes and no. I was a little different than everybody else. I was a bit of a tomboy and I always had strange clothes. I love thrift store shopping, so my clothes were always mismatched and I never had the right labels or the perfect pair of shoes.
Movie Fanatic: Was that a difficult experience?
Aimee Teegarden: Not really. The friends that I had when I was a kid are still my friends today. I've got a good group of friends that have stuck by me no matter what. They appreciate me for who I am, which is wonderful.
Movie Fanatic: What did you get involved with outside the classroom?
Aimee Teegarden: I was also involved in many different organizations like Girl Scouts and the choir. I loved it. I loved playing sports back then. That was a lot of fun for me.
Movie Fanatic: What was the Prom filming experience like for you?
Aimee Teegarden: Life on set was amazing! There were a lot of giggles on the set, and a lot of laughs. We filmed the movie in various schools around Los Angeles, so it felt like we were all going to class together every day.
Movie Fanatic: What advice would you give up-and-coming performers who are even struggling in high school?
Aimee Teegarden: There are so many different aspects of acting and there are so many amazing books out there that look into different techniques and things like that. Practice your skills, learn about acting and get involved! Head to the library and read up.
Movie Fanatic: Is there a best way to handle all the rejection that comes with the acting field?
Aimee Teegarden: You'll get about 500 people saying 'no' to you before you get a single 'yes' -- but you've just got to persevere. It's difficult. Look at auditions as a learning opportunity. It's all about getting your face out there and getting experience. You'll get there if you try hard and persevere. If you're serious about acting, join the school drama club and get involved in acting classes to see if you like it first. It's not a career for everyone.
Movie Fanatic: What's your favorite aspect of your career?
Aimee Teegarden: I get to play different characters every day and I get to pretend to do different jobs all the time -- but it's a lot of hard work and it can take forever to get that lucky break.
Movie Fanatic: Your Prom character had her heart broken, and perhaps mended -- we don't want to give away too much -- how do you deal with heartbreak?
Aimee Teegarden: I've always had a great set of girlfriends that have always picked me up and shown me that I'm young and life goes on. It's not like I've had a great tragedy in my life. There was lots of crying, of course. Crying, sleeping and food seem to help [laughs]. Everybody experiences heartbreak. I think it's just part of the whole human experience. We all deal with it and we all get over it -- eventually.
Movie Fanatic: There are kids in Prom who are a little socially awkward. How would you recommend to kids like them out there to make friends? It can be a difficult task for anyone, especially in high school.
Aimee Teegarden: Join the drama club, the sports club or even the chess club. Get involved! Find somebody who shares the same passions as you because it's a lot easier to connect with people if you have something in common. Plus, you already have something to talk about.