Earlier today, former 24 showrunner Howard Gordon was at the Television Critics Association summer press shindig to discuss his work on the upcoming Showtime series, Homeland, starring Claire Danes.
Quickly, the conversation turned to his last television hit and whether 24 could still be coming to a movie house near you.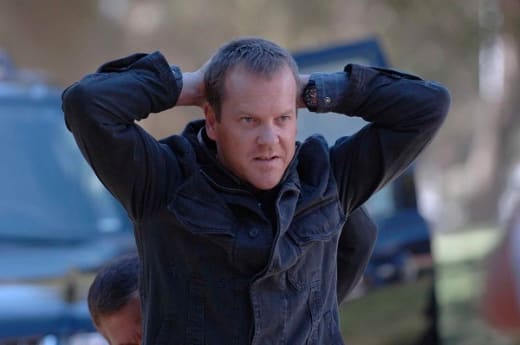 Gordon was speaking to The Hollywood Reporter and let it be known that there is "an institutional desire" to get a 24 film made and that "I know Kiefer wants to do it."
Well then, let's get it done!
Since the thrilling show went off the air, there has been almost non-stop talk about Kiefer Sutherland bringing Jack Bauer to the big screen. It's hard to imagine that show producers and the executives at Fox would have any problem making this happen. As is the case in most TV to screen efforts, the onus of whether it would work lies in what storyline would work best on the silver screen concerning our favorite CTU agent.
"I'm very proud of that run and how it ended," Gordon added in the interview. "It was very hard to get it to the finish with some kind of grace in closure. Why mess it up? But, if you find the right story…"