Could Rise of the Planet of the Apes Sequel Go Full Metal Jacket?
by MF Staff at . Comments
With box office success comes questions of, "When will we see the sequel?" Rise of the Planet of the Apes is no different. Fresh from its dominating box office win, the Apes reboot now has its filmmaker contemplating storylines for a sequel.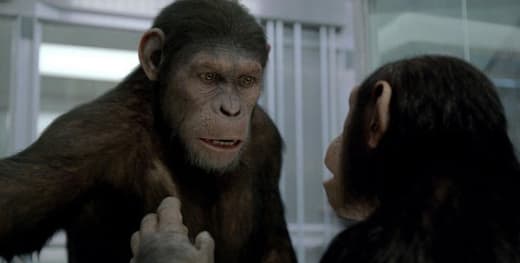 Director Rupert Wyatt has said that an inspiration for the sequel could lie in a modern American classic. Judging by his thoughts during an interview with Bleeding Cool, the film could feel a lot like Full Metal Jacket.
"You could start this story again eight years from where we left off. The next generation of apes, those that have come from our protagonists, perhaps going into a conflict with humans and showing real fear -- in the same way as going into war for young soldiers in this day and age," Wyatt said.
His idea also harks back to the origins of the Apes world where humans have gone underground to avoid the virus, only coming up with gas masks and the unavoidable fights with the apes that are immune to the virus unleashed in Rise of the Planet of the Apes.
The Full Metal Jacket aspect comes in how the next generation of apes in the sequel is trained to head off to war against the humans.
Wonder if they can get Jacket's sensational Sergeant (R. Lee Ermey) in one of those performance capture suits that Andy Serkis used so well in Rise of the Planet of the Apes to train the new ape army. Make it happen, we want to see Ermey as a militant ape whipping soldiers into shape!