Harrison Ford and Daniel Craig beat back extra-terrestrials in Cowboys and Aliens, but couldn't hold back a surge of little blue men and one woman as The Smurfs tied their genre-busting film for the top spot at the weekend box office.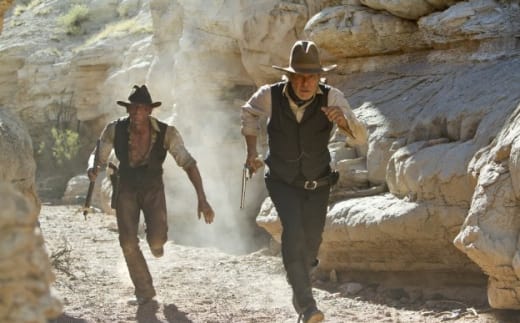 The Smurfs and Cowboys and Aliens each took in $36.2 million in box office receipts the last weekend in July. It is extremely rare to see a tie at the box office, particularly during the heat of the summer movie season.
When looking at the two films -- it is easy to see how both pulled in an impressive opening weekend.
The Smurfs, an animated-live action family film based on the children's books by Belgian author Peyo, has two things going for it: A legion of fans from the books, but also the wildly popular 1980s Saturday morning cartoon and the fact that family films always perform well in the summer season.
Cowboys and Aliens, on the other hand, has star power in front and behind the camera. When you put James Bond (Daniel Craig) and Indiana Jones (Harrison Ford) in the same film, there has to be some box office spark. Toss in the fact that Iron Man director Jon Favreau is helming while the producing team is Steven Spielberg, Brian Grazer and Ron Howard, and its top spot performance is hardly a surprise.
As the day goes on, one film may inch out the other to be a true box office winner with the final weekend receipts. But one thing is clear: The final weekend in July did not disappoint.
The box office top 5:
1. Cowboys and Aliens: $36.2 million
2. The Smurfs: $36.2 million
3. Captain America: The First Avenger: $24.9 million
4. Harry Potter and the Deathly Hallows Part 2: $21.9 million
5. Crazy, Stupid, Love: $19.3 million