Whether it's warranted or not, and audiences will decide that, Bruce Willis announced he will be back as John McClane in Die Hard 5. Yippie ki-yay!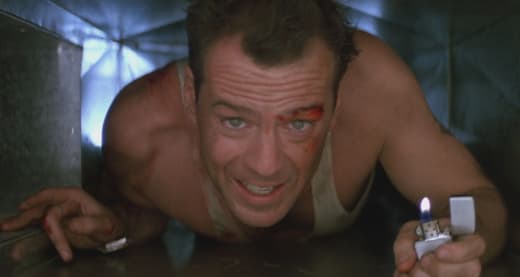 Willis has not lost his action hero swagger, as evidenced by this year's Red. So, why not return to the role that made him a box office superstar? When asked if there would be a Die Hard 5, the actor said, "It's imminent."
Die Hard arrived in 1988 and Willis has played McClane off and on since then -- lastly in 2007 in Live Free or Die Hard.
After realizing what he may have said in terms of admitting what may be a premature green light for the next chapter in the Die Hard franchise, Willis quantified his "imminent" statement. "I think I might have said the word wrong. I thought 'imminent' meant that you have a lot of 'em," Willis said. "So I have to apologize for that."
But seriously, Die Hard 5 will go before the cameras sometime mid-2012 and the script for the fifth Die Hard film is already complete.