Father of Invention Poster & Trailer: Kevin Spacey Reinvents
by MF Staff at . Updated at . Comments
Father of Invention is a new comedy starring Kevin Spacey and Anchor Bay Films has released a new poster and trailer.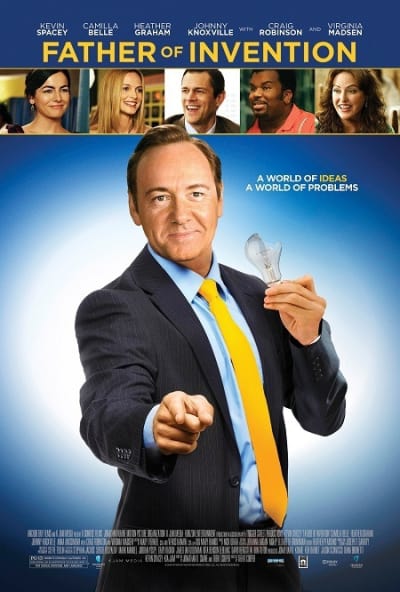 Kevin Spacey stars in Father of Invention with an ensemble cast that includes Heather Graham, Camilla Belle, Johnny Knoxville, Craig Robinson and Virginia Madsen.
In the film, Spacey plays a former millionaire infomercial Svengali who loses everything when one of his inventions starts cutting off the fingers of his customers. He is sentenced to eight years in prison for neglect, and upon getting out, must pick up the pieces of his life and start anew.
With hopes that some of his savings are intact, he heads to his house to find that not only has his ex-wife (Virginia Madsen) spent every last cent of his fortune, she's living there with her new husband (Craig Robinson).
What's a former millionaire to do? Well, for one, he gets a job at a retail superstore as a janitor and moves in with his less-than-friendly daughter and her eccentric roommates. Even without a dime to his name or a place to call his own, Spacey believes in the American dream. He's still a man of ideas and his latest is sure to put him back on top. But, before he can go for success with his latest invention, he realizes he needs to reinvent himself.
Father of Invention opens in theaters everywhere October 14.