Premonitions don't always work out so well for the characters in the Final Destination films and the fifth installment of the franchise is no different.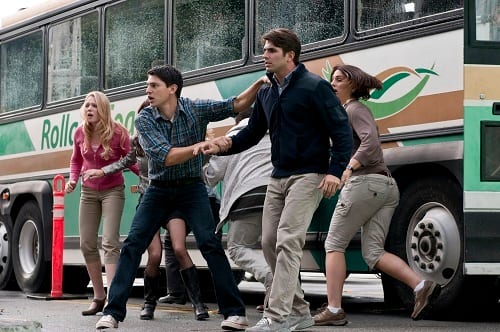 Yet, Final Destination 5 feels as fresh as the first time audiences wandered down its dark path in 2000 with the original film. Credit a tight script by Eric Heisserer and stellar direction from first time director Steven Quale.
Final Destination 5 begins as the previous four films do, with a disaster that is averted by a select few because of a vision seen by someone in a group of friends/colleagues. This time out, the catastrophe is a bridge collapse that is sure to kill hundreds. Nicholas D'Agosto is the disaster visionary in Final Destination 5 and his shock and horror at his premonition and its subsequent scariness is steely and palpable.
A group of office mates are heading off to a weekend team-building retreat when the bus they're on is stuck in traffic on a bridge, high above the cold waters below. Sam (D'Agosto) awakes from the most horrifying dream and immediately sees that what he dreamed is on the cusp of coming true.
As in the first four Final Destination films, our hero helps his friends avert perishing only to find death still seeking them out, long after they survived. As the film's tagline so eloquently says, "No matter where you run, no matter where you hide... you can't cheat death."
The joy, if we can use such a word to describe horror, in these films is the insanely creative means with which filmmakers create death scenes. Each of our office workers is in a race against time to avoid going to the great beyond in the most horrific of ways. They were never supposed to live and now it's time to pay the piper.
One by one, the ante gets upped. Only in Final Destination 5, there is a twist that might -- just might -- help our survivors continue to survive.
Final Destination 5 also does not try to be something it's not. Movie Fanatic could not recommend enough seeing this film on the big screen. Not so much for the expansive nature of the movie house, but for the participatory power of watching it with an audience. The "oohs" and "ahs" abound. There is also quite a bit of self-deprecating humor throughout the film that keeps its tone as light as a summer breeze. Don't be surprised if you laugh out loud more during this film than some of the comedies that have hit theaters this summer.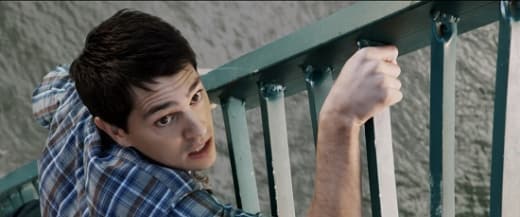 The ensemble cast knows their assignment and nails it. The film is great fun for fans and Final Destination newbies alike. One does not have to have seen any of the previous films to relish the relentless fun in Final Destination 5. In fact, neophytes to the Final Destination world will be blown away by the devilish creativity on full display.
Final Destination 5 was shot in 3D and rarely has a film in 2011 utilized the technique so effectively. The technology is a terrifying tool in the hands of director Quale. From the film's opening credits, audiences are put on alert that the ways in which the characters die will literally be coming right at you.