First Image of Tom Hanks in Extremely Loud & Incredibly Close
by MF Staff at . Comments
Warner Bros is readying its fall slate and one of the studio's films that caught our eye immediately is the Tom Hanks and Sandra Bullock starring Extremely Loud & Incredibly Close.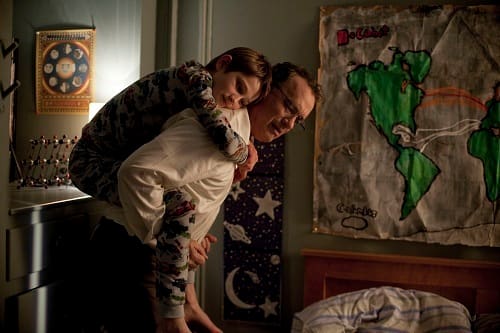 The film arrives December 25 in limited release (it goes wide January 20) and follows Oskar (Thomas Horn), the son of Hanks' character who perished in the 9/11 attacks at the World Trade Center. Oskar is convinced that his dad has left behind a final message for him somewhere in the five boroughs of New York City.
Oskar's mother (Bullock) is still firmly entrenched in a deep sense of mourning and he is feeling more and more detached from her as time goes on -- perhaps finding this clue will bring them closer. 
Hanks onscreen son believes in that which cannot be seen and has built up an elaborate theory as to the cryptic key he found in his father's old closet and the secrets it may answer. Extremely Loud & Incredibly Close is a tome that paints a picture that the trip is more meaningful than the destination. Oskar's journey to discover his father's lost message not only allows him to cherish his father's memory instead of being weighed down by his loss, but also gives him a deeper perspective on embracing those who are still among the living.
Extremely Loud & Incredibly Close is directed by Stephen Daldry (The Reader) from an Eric Roth (The Curious Case of Benjamin Button) screenplay. The two Oscar winning leads, Hanks and Bullock, are joined by a stellar group of thespians including Oscar nominee Viola Davis (The Help), Jeffrey Wright and James Gandolfini.