Higher Ground Movie Review: Vera Farmiga's Fine Directing Debut
by MF Staff at . Comments
Vera Farmiga told Movie Fanatic exclusively that Higher Ground would not have secured financing if she did not attach herself as director. That is a rare move by producers given the fact Farmiga has never helmed a picture. But after witnessing the subtle film's depiction of one couple's journey through Christianity, it is a pure unadulterated blessing.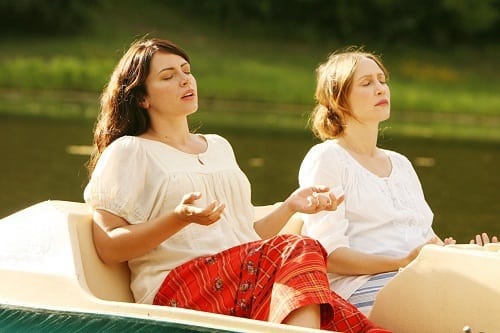 Farmiga has a firm grasp on her cast and utilizes them in an impeccable manner. Higher Ground follows Corinne (Farmiga) and Ethan (Joshua Leonard) over decades and for any director, that is not an easy task. The film begins with two younger actors portraying the couple (Vera's sister Taissa Farmiga and Boyd Holbrook, respectively) and the performances they establish in the film's opening act seamlessly move through the adult actors.
Making a Hollywood film with religion at its central core is a difficult and frankly, thankless task. Yet, Higher Ground doesn't hit its audience over the head with Christianity preaching. It is merely a method of storytelling about one woman's journey through life and the choices she makes and how they dictate the person she becomes by the closing credits.
Higher Ground stars Farmiga and Leonard and each actor brings their best. But, the film is truly an ensemble piece and Farmiga the director has one killer cast helping her achieve a directing debut triumph. Oscar nominee John Hawkes is Corrine's father CW, while Tony Award winner Donna Murphy is her mother Kathleen. As the film progresses, audiences meet the church congregation that is not only central to Corrine and Ethan's spiritual world, but also their social circle as well. The group has a classic theater ensemble feel, with Dagmara Dominczyk's Annika serving as its heart.
If there are any faults with Higher Ground, they are minimal. The first act is a little clumsy, but then again, Corrine and Ethan are stumbling on their life path. The film truly takes off when the pair find Christ and Farmiga and her cast are then off to the races.
Farmiga's directing chops are solid. She has definitely taken a page from her fellow co-stars turned directors including George Clooney (Farmiga's partner in crime in her Oscar nominated turn in Up in the Air). Clooney acted and directed in his first foray into filmmaking in Good Night, and Good Luck. There's an art to being able to straddle both sides of the creative street and Farmiga simply nails it in Higher Ground.