In Time Official Trailer Debuts: Justin Timberlake as Action Star
by MF Staff at . Comments
In Time, a futuristic thriller, has just released its official trailer. The film stars Justin Timberlake in what the actor-singer hopes is the impetus for making the celebrity an action star.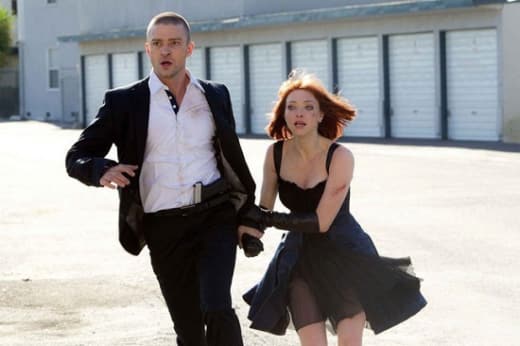 Timberlake stars as Will Salas, a poor man of the future, who is falsely accused of murder. In Time's premise is a futuristic world where time is more relevant than even money. People stop aging at the age of 25 and in order to live beyond that age, they must literally buy time in order to extend their life.
Timberlake's character stumbles on a man about to take his own life. In this future, only the wealthy have the means to live out of their twenties. When you can buy time, you have the luxury of a long life. Suddenly, Timberlake's poor man has the ultimate luxury -- time, when it is transferred to him by the suicidal man. Authorities believe that Timberlake's Salas has in fact murdered the man, and pursue him with a vengeance.
With the help of an unwilling accomplice, Sylvia Weis (Amanda Seyfried), Salas hopes to not only save his own life, but to bring down the entire system that has set up this top heavy favoritism when it comes to who lives and dies.
In Time arrives in theaters October 28 from writer-director Andrew Niccol (screenwriter for The Truman Show, Lord of War and the upcoming latest Stephenie Meyer page-to-screen flick The Host).