Breaking Dawn mania appears to only be getting hotter as Entertainment Weekly has produced a new photo from the film on the cover of their fall film preview issue.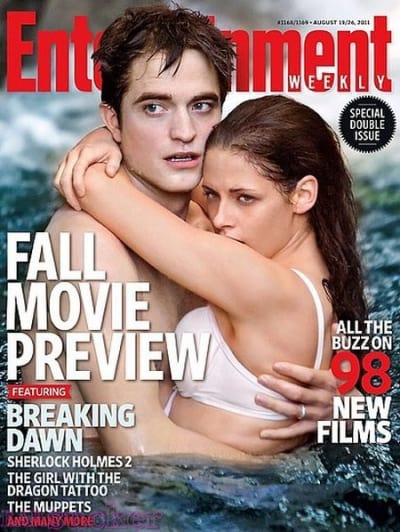 Edward (Robert Pattinson) and Bella (Kristen Stewart) are all wet amidst a passionate embrace on the mag's new cover in what is sure to send Twi-hards into fits of anticipation.
Twilight Saga: Breaking Dawn Part 1 is set to hit theaters November 18 and if the reaction from fans at this year's Comic-Con is any indication, it should eclipse (nice pun, huh?) all the previous cinematic versions of Stephenie Meyer's enormously popular young adult series.
Little by little, Twilight fans have been able to piece together what the Bill Condon-directed franchise closer will look like. First there were general stills released, then the big ones -- photos from Edward and Bella's wedding and subsequent honeymoon. Now EW has promised a new set of stills will be released later today (stay tuned to Movie Fanatic as we bring those to you as soon as they're live). 
The EW cover is from the iconic pair's honeymoon as Edward's wedding ring is front and center. It kind of looks good on him, no?
The magazine also features behind-the-scenes photos of the shoot that concluded the Twilight franchise and has fans of the series wondering what they will do next. Perhaps, get behind The Hunger Games?!